The company name College Hunks Hauling Junk, translates loosely into business terms as "available labor, managing the logistics of moving junk." Today, there are no bigger challenges than finding good workers and navigating the supply chain.
4.4 million U.S. workers just left their jobs in September — a resignation rate higher than ever before. Recent research from Goldman Sachs found that increased retirement could create a worker shortage for years to come. The lack of labor has also affected the distribution of goods. Imports sit in shipping containers waiting to be unloaded, compounding other global supply chain setbacks.
However, College Hunks CEO Omar Soliman only sees opportunity in the uncertain terrain ahead.
"With supply chain [challenges for getting trucks] or labor, that is a threat [to the business]. At the same time, our competitors are all dealing with it also," he says. "So if we can figure it out better and faster than them, we're going to be gaining more market share than them."
According to Soliman, the company has taken a more aggressive approach to ordering trucks in order to stay ahead of the manufacturing hindrances affecting truck production. He says that College Hunks has also considered owning and selling the trucks to its franchisees vertically, instead of working with multiple external truck vendors.
"Threats are what separate the good companies from the great ones," he says. Soliman co-founded College Hunks Hauling Junk in 2003. He now is the CEO of the company, which operates franchises in 50 markets across 30 states.
In an interview with Senior Executive Media, Soliman shares how the company has prepared to meet roadblocks in the 2022 labor market. Read the edited transcript below.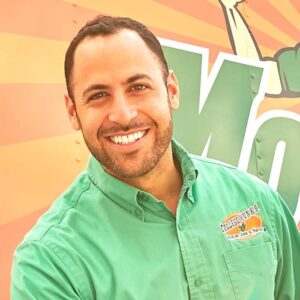 Threats are what separate the good companies from the great ones.

Omar Soliman, CEO of College Hunks Hauling Junk
Senior Executive Media: You have a franchise model. What can you do as a CEO to encourage retention and hiring of workers, versus what falls to the franchise owner?
Omar Soliman: Our job as the franchisor is to provide systems and processes to help them [franchise owners] with their business. An example that relates specifically to hiring would be potentially automated software that contacts recruits or prospective employees in an automated fashion and filling that bucket of prospects on behalf of the franchise owner. Or doing some market research to see, "What do we need to pay to be competitive for our industry?" Or doing some advertising and marketing, not just around the brand for consumers, but some marketing and branding around potential employees as well. We have to take an approach of creating a system [for hiring] that the rest of the franchise system can buy into.
Senior Executive Media: You mention market research related to attracting talent. Tell me about what you found.
Omar Soliman: One thing we found is that employees want to be listened to. It's not just surveying your employees, but also really taking their feedback and showing them or expressing to them that it's heard, and taking actionable steps based on their feedback. So there was a recent article that said, one of the most common reasons that employees leave is because their feedback is not listened to, or it's just perceived that it's not listened to.
We use something called TINYpulse, which surveys our team members on…a weekly basis. So it's the consistent surveying, and then also spending time with the leadership team to review it. … Some CEOs take different team members out to lunch every week. I know some CEOs are always actively listening or reading the feedback and responding to it. Now more than ever, we've got to take a frontline approach and perspective to our jobs as leaders.
Obviously, we've got to pay more. We need to be always pushing the envelope when it comes to wages. … Work from home is a big part of it. We have a call center with 300 agents. We went from all working in a single office in Tampa to now — not just across Tampa Bay, but across the country. … What we found is actually employees are pretty happy working from home. And, either having a hybrid model, or a work-from-home model is probably going to be the norm to be competitive in the marketplace.
Senior Executive DEI Think Tank is a criteria-based membership community for chief diversity officers and senior-level DEI leaders at large organizations to share difference-making tactics, trade valuable resources, and seek the counsel of experienced peers in a private, confidential setting.
Do you qualify?
Senior Executive Media: You have been running the business for 16 years. How has your relationship with your board changed?
Omar Soliman: Looking back in the early days, when we would have our board meetings and communication with our advisors, a lot of the question was, does the system work? [Would] the revenue…have been enough, or the profitability of our franchisees…[be] enough? So a lot of it was getting the business to a point where it was making money, and it was making our franchisees money.
Fast forward to now, and even a few years ago, the model and system work. And we put in people in all the different business areas that are players and that can drive that system forward. So it's less about, can this make money? Is this going to succeed? To, "Okay, how can we double down or triple down on the things that aren't working?" It's become a little bit more high-level, in terms of strategy.
So the tenuous and strenuous times of those board meetings where you'd look at the numbers and kind of shake your head has now evolved to looking at…the 10x opportunities. How do we keep doubling down on what's already working?