From training and development programs to the learning technology used to deliver them, the list of learning and development terminology continues to grow. And as chief learning officer, it's your responsibility to make sure you and your team have a shared understanding of the terms used in your industry, especially as you work together to design and develop new L&D initiatives.
Do your team members know what a learning ecosystem encompasses? Are they familiar with the difference between a returnship program and an apprenticeship program? What about various instructional methods?
Each term in this glossary has specific relevance to the corporate learning and development function — everything from learning theory and process to technical terminology you're likely to come across. Refer to this resource as needed, share it with your colleagues, and use it as an onboarding tool for new L&D professionals.
Use these quick navigation links to jump to various terms throughout the alphabet:
---
Glossary of Terms
Active listening — A participatory form of listening in which the learner listens thoughtfully to the message that's being shared, uses body and verbal cues to indicate understanding, verbally repeats what they hear, and asks questions to develop a more thorough comprehension.
Adaptive learning — The more traditional definition is learning that is delivered in the way that the individual learns best, such as written versus visual or group training versus one-on-one training. More commonly today, adaptive learning refers to structuring a digital learning experience based on skills gaps that are indicated in assessments, and then making adjustments as users progress through the training. For instance, a digital learning platform may be programmed to deliver different content to learners who answer a question correctly versus those who answer the same question incorrectly.
ADDIE — A five-stage framework used in the instructional design of learning content, such as an online course, and in training and development programs, such as an employee mentorship program. The five stages of ADDIE are: analysis, design, development, implementation, evaluation.
Agile learning — A design approach that allows for the flexibility to pivot in order to develop and deliver learning that aligns with evolving needs of the business and its employees. It involves continuous feedback on existing learning programs and iterations, without the full cycle of program development that the ADDIE method outlines.
Andragogy — Adult educator Malcolm Knowles made the case that adults learn differently than children and used this term to refer to any form of adult learning, whereas pedagogy refers to the theory and practice of child learning. Andragogy is based on a set of assumptions, defined by Knowles, that differentiate adult learners: a preference for self-directed learning, drawing on life experiences to assist in learning, the desire to learn as related to a role or task, learning is motivated by the need to solve a problem, and learning is often driven by internal motivations.
Application programming interface (API) — A software interface that acts as an intermediary so that two or more computer programs can communicate. The interface has its own rules and definitions that orchestrate how these programs function together and share data. An API is necessary for a learning management system to work together with an analytics platform in order to track and measure specific learning metrics, as an example.
Apprenticeship program — These programs help companies bring in individuals who are new to a profession, often but not always a trade, for paid on-the-job training. Some companies may choose to develop partnerships with certain colleges or universities to recruit from and also offer to pay the tuition for the individual (the apprentice). Once an apprentice graduates their program, the company may extend the opportunity to become a full-time regular employee.
Artificial intelligence (AI) — Computer science technology that processes large amounts of data to perform tasks and problem-solve. Artificial intelligence applications replicate what's possible through human intelligence, but faster. However, because artificial intelligence applications are developed by humans, one major concern is that these systems are prone to bias. AI is used in learning and development programs to gamify the learning experience, create role-play training experiences, deliver individualized learning recommendations or quiz questions, create quick videos, generate data reports, and more.
Asynchronous learning — This delivery method enables learners to access training content without a live instructor and at their own convenience, typically through an internet-based platform such as a learning management system. Asynchronous learning may also be referred to as on-demand learning.
Blended learning — This is the strategic use of incorporating various learning delivery methods into a training program. An example of blended learning is the sequence of delivering e-learning materials for independent learning, an in-person class for peer discussion of the e-learning materials, and a simulation designed for learners to put their new knowledge or skills into action.
Career architecture — Also referred to as "job architecture," this is an organizational framework of the various roles within a company and the responsibilities, requirements, skills, and competencies related to each of those roles. It provides employees transparency to the hierarchy of jobs within an organization and an understanding of the skills and competencies needed to move into new roles, vertically or horizontally. It also provides managers and L&D leaders a better understanding of talent opportunities and skills gaps.
Career coaching — A one-on-one, coach-to-employee relationship in which the coach advises and guides the employee to set and work toward career goals. A career coach may assist with identifying ways an employee would like to develop professionally and the steps to take to do so. Generally, career coaches are external to the company and may be available through a company-provided benefit intended to help employees reach their potential.
Chief human resources officer (CHRO) — An executive-level leader who oversees human resource management functions, which may include compliance and labor policies, workforce development strategies, talent acquisition, employee engagement, and learning and development. In smaller organizations, this role may manage all functions; larger organizations often have executive-level leaders specifically responsible for talent acquisition and learning and development. The person who sits in the CHRO role may alternatively have the chief people officer title.
Chief learning officer — An executive-level leader responsible for identifying and developing employee learning programs that meet the needs of the business and its employees. Programs may include new hire onboarding, upskilling and reskilling, leadership development, and succession planning.
Chief talent development officer (CTDO) — An alternative to the chief learning officer title, a chief talent development officer is an executive-level leader responsible for identifying and developing employee learning programs that meet the needs of the business and its employees.
Cohort learning — Opposite of self-paced learning that an individual navigates independently, this learning delivery style is delivered synchronously to a group of learners who navigate the learning content and associated activities together. It is designed to encourage discussion, debate, and peer learning. Cohort learning programs can be delivered in person or through e-learning platforms, and they may or may not incorporate instructor-led training; instructors may also act as discussion moderators.
Competency — The knowledge and aptitude to perform a particular skill successfully. Hiring managers, recruiters, and learning and development professionals may go through the exercise of assigning core competencies to job titles to assist in recruiting, training, and development initiatives. An understanding of employees' competencies is also useful in determining what types of training to develop and provide in order to close skills gaps.
Competency-based learning — In this approach to learning delivery, L&D teams develop learning materials and programs based on the competencies and skills that are required for employees' roles, shown to be lacking based on skills assessments, or align with organizational objectives. Competency goals for the learning program are predetermined, and learners are assessed throughout and at the end of the program to measure progress. This learning delivery method is often used in reskilling initiatives and skills-first hiring training programs.
Content library/learning content library —A collection of digital learning assets such as video courses and text files that employees can access on-demand. These assets may be created in house, acquired through third-party e-learning content providers, or a combination. A content library is often integrated into a company's learning management system to support employee learning journeys, drive skills development, and enable L&D data collection.
Discovery learning — This instructional method presents a situation that needs a solution. Learners are prompted to explore the situation, ask questions, analyze information, and apply their knowledge and experience to problem-solve. This active approach to learning personalizes the experience and can be used to replicate real-life scenarios they'll face in their roles.
E-learning — Also referred to as digital learning, this is a general term for any type of learning that's delivered electronically. It can take various forms, such as live instructor-led training, pre-recorded videos, reading materials, quizzes, gamified activities, and discussion forums. It can be synchronous or asynchronous, and it is often accessed and managed on a learning management system.
Early career development program — Aimed to cultivate professional talent just entering the workforce, this program often includes mentorship for the entry-level employee, cross-functional training to expose them to different areas of the business, and various learning opportunities to get them immersed in their new role and company culture beyond what the new hire onboarding program can offer. Additional elements of an early career development program may include opportunities to network with others in the workforce and explore career paths. Some programs begin with an internship as the pathway into a full-time role with the company.
Emotional intelligence — The ability to recognize and manage your own emotions as well as the ability to empathize with the emotions of those around you. For L&D professionals, high emotional intelligence aids in your ability to communicate and build relationships with both company stakeholders and learners. For the workforce, emotional intelligence training can be integrated into various training and development programs, especially leadership training.
Employee retention — The strategic focus on keeping employees in an organization's workforce and avoiding costly turnover. Employee retention data reflects the percentage of employees who continue to be employed by the company for a specific time period, often one year. It can also be measured by role or department. Learning and development programs such as new hire onboarding and leadership development have been shown to greatly impact employee retention rates.
Experiential learning — This is the learning of a skill or a process by doing it oneself. To provide a setting for individuals to learn through experience, it must offer a safe space to make mistakes, reflect on and learn from what went right or wrong, and try again. Virtual reality training is commonly used to deliver experiential learning.
Facilitation — The process of guiding learners toward intended training outcomes, which can be conducted in both virtual and in-person settings. Facilitation can include delivering learning content, initiating activities to introduce or reinforce information, moderating discussions among learners, and posing questions to help learners improve their comprehension and application of the subject matter.
Gamification —The use of game principles or concepts to create more engaging learning and training experiences, which may sometimes encourage peer competition. While gamification is often delivered digitally, it can also be delivered in person. Components can include interactive quizzes or video game-style experiences, teamwork activities, and the opportunity to collect points or win prizes.
Human capital management (HCM) — This is the strategic management of a workforce to optimize business efficiency. It involves recruiting, hiring, and onboarding the right candidates; the administrative aspects of HR such as payroll and benefits; the performance management, training, and development of employees; and retirement and succession planning. A human capital management system (HCMS) or human capital management information system (HCMIS) is often used to track these various stages and accumulate data that learning and development teams can assess to identify training needs and opportunities.
Human resources information system (HRIS) —A software solution that houses all employee information, compiles workforce data, and automates specific human resources-related tasks. It supports corporate processes and initiatives such as recruiting, benefits, and payroll. It can also be integrated with a company's LMS to support employee training and development.
Hybrid learning — The combination of in-person and virtual learning. In-person learning is often the foundation for the hybrid learning program and is supplemented by online training materials such as videos or text-based case studies.
The Senior Executive L&D Think Tank is an invitation- only community for chief learning officers and senior-level L&D leaders at large organizations to share difference-making tactics, trade valuable resources, and seek the counsel of experienced peers in a private, confidential setting.
Do you qualify?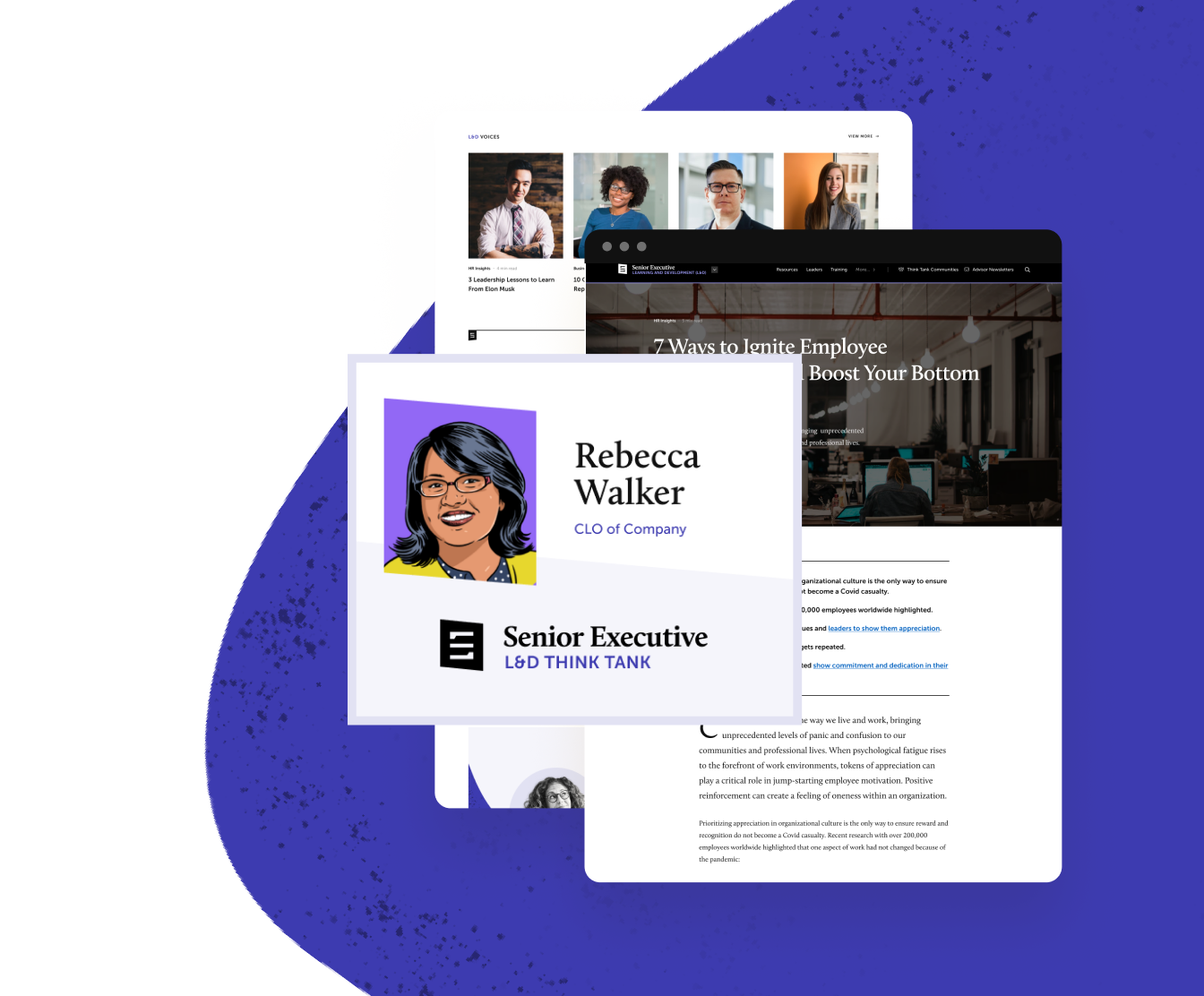 Individual contributor (IC) — An employee who holds specialized knowledge or skills to perform their role but does not manage others and is not on a management track within the organization. They can still advance within their role, however, and may serve as a subject-matter expert in their area of work. Examples of individual contributors include software developers and content strategists.
Informal learning — Learning that occurs organically and unplanned in an employee's day-to-day, such as in discussions with a supervisor or peer, by reading books or independently consulting company resources, during a team-building event, or through on-the-job experiences such as a customer interaction. While this type of learning is not part of a formalized program, it can be promoted by the L&D department in various ways, such as encouraging knowledge sharing, making sure training resources are easily accessible, providing employee perks such as free books, and allocating time for learning during an employee's work schedule.
Instructional design — The strategic development of learning experiences aimed to achieve specific learner outcomes with a defined process for performance evaluation. Instructional designers are learning professionals who apply learning theory and a learning-outcomes approach to the creation of various learning assets, such as training program instructional materials, presentations, and handouts.
Instructor-led training — Either in-person or virtually, this training delivery method involves an instructor who facilitates the learning experience to a group of employees or to an individual employee.
Knowledge management — The process of collecting and maintaining knowledge within an organization. This may include documentation on processes and procedures, intellectual knowledge, and experiential knowledge, which can then be disseminated to other employees or shared through internal channels such as an intranet for learning purposes.
Leadership development program — This type of program invests in the skills and competency development of high-performing employees who show leadership potential. On the business side, it aids in developing a workforce for the future and retaining high-potential talent. In some cases, participants of the program are nominated by managers and leaders at the company, and an application to show the individual's leadership aspirations may also be required. Leadership development programs often include mentorship, managerial and leadership trainings, and networking opportunities.
Learning architecture — This is a company's learning and development infrastructure, designed strategically to promote the growth and development of employees while also meeting business needs. A learning architecture includes all learning and development programs and initiatives, from new hire onboarding to executive development.
Learning delivery — The way in which knowledge is communicated to learners. There are many methods of learning delivery, including cohort learning, e-learning, and instructor-led training. The appropriate learning delivery method is determined based on various factors such as the location of the learners and the facilitator, the resources and technology available, the materials and knowledge being communicated, and the learning objectives.
Learning design — The process of crafting a learning program. It includes strategic decisions on the appropriate learning delivery method, the learning content, the timing and sequencing of learning activities, the technology used, and the assessments or measurements that determine effectiveness. Learning designers often follow a learning theory, such as the ADDIE framework, to develop a strategic learning program.
Learning ecosystem — A learning environment that employees experience within a company, which is made up of five elements:
People, including the L&D team, supervisors and leaders, subject matter experts, and peer employees.
Organizational culture, which includes the organization's practices and company values that encourage and promote learning.
Learning content, which includes job aids, guides, text- and video-based learning assets, and instructor-led training programs.
Technology, such as the learning management system (LMS), used to curate and deliver learning content.
Data, including assessment scores and effectiveness measurements used to assess employees' learning needs and evaluate learning programs.
Learning experience platform (LXP) —A learning platform that enables employees to choose their own courses and personalize their learning experience based on interests, as opposed to being assigned content and trainings by the organization through a learning management system. A more informal approach, LXPs offer greater flexibility and variety but are also less strategically aligned to L&D goals. It is generally offered in tandem with a traditional LMS.
Learning management system (LMS) —Also referred to as a learning management program or a learning content management system, it is a foundational digital platform for corporate learning and development and can be integrated with other HR and learning software. L&D professionals manage the administrative side of learning programs through the LMS, such as authoring and managing learning content and tracking assessment scores and completion rates. It is also the vehicle for the digital learning program's delivery to employees, serving as the platform on which employees access learning assets and take assessments.
Learning modalities — The various ways in which learners use their senses to receive and comprehend information. Based on the four senses, learning modalities include: visual learning, auditory learning, kinesthetic learning, and tactile learning. The term learning modalities is also commonly used to refer to the various types of learning delivery methods, such as instructor-led learning and e-learning.
Learning modules — A collection of learning materials that are packaged and delivered together. Learning materials may include videos, files, activities, assessments, surveys, and other forms of content. A learning module can be delivered individually, and multiple modules delivered in a specific sequence build a course or a program.
Learning objectives — The skills, behaviors, and knowledge outcomes that learning programs are designed to cultivate and deliver on. A learning program is considered effective when measurements and assessments show that employees have achieved the predetermined learning objectives.
Learning pathways — This refers to the strategic structuring of learning programs and courses to help learners achieve development goals. Learning pathways can be tailored based on an employee's career goals, such as leadership skills development programs and courses for an employee who has aspirations to advance to a leadership position. These personally curated learning pathways are often delivered through online learning platforms aided by artificial intelligence.
Learning technology — Any technology tool, platform, or software used in the development, delivery, or evaluation of learning programs.
Managed learning services (MLS) —Sometimes referred to as training or learning outsourcing, this is the outsourced management of an organization's employee learning and development program. A third-party provider develops, delivers, and manages the program and its activities to meet defined company objectives. A company may choose to partner with a managed learning services provider to leverage external expertise in learning technologies, content development, and measurement; to scale its L&D operations, such as expansion into additional markets; or to save money during economic downturns, particularly when the L&D department's staffing is affected.
Mentorship program — This is an intentionally paired relationship between two employees aimed to facilitate knowledge-sharing and support. Often used to assist in the onboarding of new employees, a mentorship program pairs an existing employee with a new hire to help them get immersed in their new role and company culture and answer questions that arise. Mentorship programs are also used as a way to engage existing talent looking to develop their careers, in which case mentors are usually senior to their mentees, in regard to their time and hierarchy at the company, so that they can provide career advice and feedback. A peer mentorship program pairs employees with similar levels of experience to encourage learning from one another; reverse mentorship pairs a less experienced employee with someone in a leadership position to share the knowledge and perspectives of a younger generation.
Microlearning — Short pieces of learning content that are delivered individually and do not require a significant time investment from the learner. Microlearnings are often created and delivered digitally, and examples include a brief video instruction on how to file an IT request, a podcast on emotional intelligence, and an infographic that displays key company facts. Microlearnings generally require no more than 10 minutes of an employee's time.
Multimodal learning — Combining multiple learning delivery methods and modalities into a single learning program with the objective of reinforcing knowledge. For example, a new hire onboarding program might include on-demand video content covering general company information, reference guides employees can download, and a gamified experience that walks them through the structure of a business department.
Open-source software —Computer software and its source code that's made available to the public. The copyright holder allows any user of the source code to modify and distribute it. In corporate L&D, e-learning open-source software allows companies to build learning courses and platforms without starting from scratch.
Organizational development — A systematic process of creating and driving change within an organization, through its management, strategy, structure, and people, to improve overall efficiency and effectiveness. Employee learning and leadership development is a key component in organizational development.
Perishable skills — Skills that may soon be outdated or irrelevant, or skills that are only applicable in a contextual setting such as related to a particular company's in-house technology platform. Perishable skills are often technology-based due to how quickly the industry transforms.
Problem-based learning — This learning method is delivered by presenting a real business problem that an individual learner or group of learners might face in their role at the company and then encouraging them to work through it by accessing resources, applying knowledge, collaborating, and thinking critically to find a solution. Problem-based learning can be delivered in person or in virtual settings. The learning-by-doing approach reinforces knowledge, and when done as a group, it promotes engagement and teamwork.
Reskilling — The process of training an employee on a new skill or set of skills to prepare them for a different type of role within the company. This training is often done to facilitate nonlinear or lateral moves within a company or to fill brand new roles that have developed due to business transformation. An example of this would be reskilling a customer service manager for a role as a user experience (UX) developer.
Returnship program — Designed to assist professionals who are reentering the workforce after a long-term leave, this program often includes on-the-job training and support through mentorship to ease the transition. Returnships may include rotational opportunities for individuals to experience various roles before joining the company full-time, or they may focus on training a new employee in a specific role to get them up to speed on the skills and technology required. These programs vary in duration, from several weeks to several months.
Self-directed learning — When a company provides various learning opportunities and on-demand resources and enables employees to choose what learning they pursue based on professional interests and goals. Self-directed learning gives employees more autonomy to how, when, and what they learn, empowering them to take control over their professional development. The downsides of self-directed learning is that a company has less influence on how upskilling and reskilling pursuits align with business needs and workforce development.
Simulation learning — A learning experience that's designed to reflect a real-world situation that a learner could encounter in their job. It can be designed with the objectives of increasing knowledge, improving teamwork, or increasing skills or technical proficiency. When delivered in a controlled environment, simulated learning allows employees to make and learn from mistakes without real business consequences. The delivery of simulation learning can vary greatly, from a salesperson navigating a simulated client conversation to learn how to close a deal, to virtual reality-based training in which a surgeon practices a new surgical technique.
Skills framework — Often developed based on the guidance or the direction of the L&D department, it serves as a way for an organization to define the skills it values in its workforce and ensure that all employees have a shared understanding of what those skills are. It also provides a standard by which to assess the current skills of employees and identify skills gaps where training and development programs could be implemented.
Skills gap — This is a particular skill or set of skills determined to be lacking, either team- or company-wide through the development and analysis of a skills framework, or individually based on an employee's skills assessment. By identifying skills gaps, the L&D team can develop training programs that address the building of those skills.
Social learning — This type of learning occurs when employees learn from others within the workplace. This most often occurs informally, but social learning can be facilitated with the help of learning and development teams by working with subject matter experts (SMEs) within the company to develop informational blog posts, videos, or discussion forums. For remote teams, chat platforms such as Slack or Microsoft Teams can facilitate social learning through employees' sharing of tips and tricks.
Soft skills — Also referred to as durable skills, these include skills that can be transferred from job to job and are valuable throughout an individual's lifetime. Soft skills include effective communications, time management, and problem-solving.
Sponsorship program — This is a one-on-one relationship in which a senior-level employee takes an active role to help advance a high-potential employee within the company, often an employee from an underrepresented minority group. The senior-level employee (the sponsor) may advocate for that employee and make helpful introductions, as well as share critical feedback and meaningful insights.
Subject-matter expert (SME) — A professional who has an advanced level of knowledge, and generally extensive experience, in a specific area such as web development or product marketing. Within a company, a subject-matter expert may often volunteer or be appointed to share their knowledge through social learning and informal learning channels. They may answer employees' questions and help guide leaders on business decisions.
Succession planning — The process of preparing for workforce changes by training and developing internal talent to be ready to step into new roles, particularly critical leadership roles, if and when employees in those roles depart from the company. Succession planning focuses on the long-term human capital needs of an organization to ensure its future success. Learning and development leaders play an important role in identifying the skills talent will need to meet those needs and providing the appropriate training, such as upskilling, reskilling, and leadership development programs.
Synchronous learning — Learning delivery that occurs in real time, either virtually or in person. Synchronous learning allows the instructor to facilitate live discussions in which learners can introduce new ideas into the training and ask questions.
Talent acquisition — The process of recruiting, screening, and hiring talent to meet a company's workforce needs. L&D plays several roles in talent acquisition. By providing robust learning and development opportunities and communicating them externally, a company can more easily attract candidates to job openings; learning and development teams can work with talent acquisition teams to identify skills gaps to address with training programs; and learning and development teams that develop career mobility programs assist in filling critical roles with existing employees.
Talent management system —A software platform encompassing all aspects of talent management, to include recruiting, onboarding, talent development, employee evaluations, and succession planning, and can be integrated with other HR and L&D platforms. Data collected through the software can assist in developing more effective recruiting and retention strategies and improve the employee experience.
Training needs analysis — This refers to the process of determining the skills needed within an organization, both role-specific and organization-wide, and assessing the current competencies and skills employees have. From that information, L&D teams are then able to identify skills gaps and create the appropriate training programs to develop their workforce to meet business needs.
Upskilling — The process of training an employee on new skills or advancing their knowledge and proficiency in existing skills to help them excel in their current role or progress in a linear career path. A common example of upskilling is training on new digital skills, such as learning a new software program the employee is to use in their current role.
User experience (UX) —How a user experiences and interacts with a product or service. In L&D, this is the way employees experience and interact with various learning programs, such as your new hire onboarding training or your learning management platform.
Did we miss any terms? Send us an email to help us build our glossary and keep our definitions up to date.