As a company that has been fully remote since its founding 15 years ago and eliminated restrictive vacation policies five years ago, digital PR and marketing firm Zen Media has "always been ahead of the times," says CEO Shama Hyder.
So as other employers close the recruiting gap by suddenly embracing remote work, Zen Media is countering with a back-to-basics overhaul of health benefits — aimed at providing better coverage with less hassle in 2022.
"We used to have group health insurance, and then Obamacare came along," she explains. "It actually made more sense for [employees] to buy individual policies because they were getting more coverage. We've just been subsidizing."
Hyder's team must find a plan that can cover 50+ employees who live across the U.S. According to Hyder, Zen operates "virtual offices" in San Diego, New York City, Miami, and Plano, Texas. In each location, at least five employees reside and maintain relationships with the local business community.
Hyder has another requirement guiding Zen Media's search for a new health plan: Better coverage and better value than the subsidized plans employees can get on their own. "Once employees are used to something, it's not like you can take something away," she says. "You can only enhance it."
Hyder's quest for a new company health plan was just one topic she addressed in an exclusive October 2021 interview with Senior Executive Media. Read on for an edited excerpt.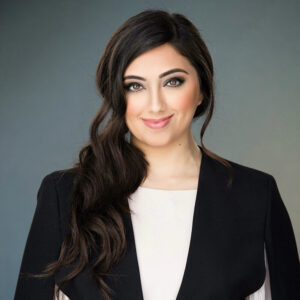 We have such great talent. My primary goal is how do we keep them? … If we keep them, we attract good people, because a lot of our great employees are referrals.

Shama Hyder, CEO, Zen Media
Senior Executive Media: We're all using the term "Great Resignation." How aggressively are you going after top talent, and how are you working to re-recruit the top talent you've already got?
Shama Hyder: It is kind of a dual strategy. We have such great talent. My primary goal is how do we keep them? I also feel like, if we keep them, we attract good people, because a lot of our great employees are referrals.
Finding leaders in your company who excel at what you don't is key. So in our case, we have a president — her name is Stephanie Chavez. She genuinely cares so much about people's micro. I care about people's macro, right? Like, big picture, are they happy? But she's the type of person that remembers birthdays and anniversaries. And so we have a separate budget set aside so she can celebrate. Someone has a birthday, [we're] sending cupcakes… New employees [get] welcome packages with a desk plant and a water bottle. Things like this become even more important when you're remote. I don't want to send them crappy swag. We actually have a task force right now to craft the ultimate welcome swag box.
Senior Executive DEI Think Tank is a criteria-based membership community for chief diversity officers and senior-level DEI leaders at large organizations to share difference-making tactics, trade valuable resources, and seek the counsel of experienced peers in a private, confidential setting.
Do you qualify?
Senior Executive Media: Rattle off some other specific examples of employee perks for our readers to consider at their own organizations.
Shama Hyder: Steph does a lot of really cute get-well kits when someone is sick. She puts in tea and things like that and has done this even for clients… Steph even has a nice little exit gift. Most [employers] don't do that. Luckily, we don't have a ton of people who've left.
Senior Executive Media: What are you working on with your executive coach to be a better leader in 2022?
Shama Hyder: Understanding what motivates me versus what motivates my team. Because I think when I first started as a leader, I kind of thought everyone's like me — everyone is motivated by the same thing. I was like, "Why wouldn't this be obvious to someone else?" And the truth is, what's obvious to us is not obvious to everyone else. It's not how it works.