With much talk about artificial intelligence (AI) and other advanced technologies replacing physical workers across industries, the L&D leaders at Waste Management (WM) are saying not so fast.
Yes, technology is being used to relinquish employees from daily, rudimentary tasks at WM, but Phil Rhodes, head of learning and leadership development, and Yasmin Gutierrez, senior manager of learning experience and acceleration, say they're cultivating a leadership pipeline for their 48,000-employee workforce that enables displaced workers to take on more valuable roles across the company. This approach has nurtured many WM leaders, including John Morris, the company's COO, who started as a trash truck driver.
Senior Executive L&D spoke with Rhodes and Gutierrez about how learning technology is helping them work more efficiently and upskill their workforce to fill managerial- and executive-level roles.
Senior Executive Media: Why is upskilling so important at Waste Management?
Phil Rhodes: As we have been growing into the sustainability space — we're the largest recycling collector in North America — we are going through a huge optimization of automation. What has been great is that our senior leaders have said, 'Look, we don't want to lay people off, we want to invest in our people.' People really stay here a long time, and it's a good people-first culture. So, we really invest in taking away some of those very unsafe frontline roles.
Imagine you're hanging off the back of a truck, jumping off that truck, and picking up garbage cans. That's not a safe job, right? We want to eliminate that by bringing in, [for instance], a side loader or an arm that comes off the side of the truck, picks up a container, and drops it in. [Then] those [human] helpers can go and get their [commercial] driver's license here within WM, at our cost, so they can become drivers.
Similarly, in our recycling centers, individuals are standing on conveyor belts, sorting through the recycling that's coming in, and, as you know, it doesn't come in clean and pretty. We collect every single piece of that. What we're now doing is investing billions of dollars to automate those centers. Being a sorter on a recycling line is a very dangerous job. We're upskilling those folks to become supervisors of managing the equipment and monitoring it.
We find the technology that's going to elevate and take those mundane tasks out of the system. Then, our people can really consult and do the human side of our business.
Senior Executive Media: In your upskilling programs, do you favor human-led coaching or tech-driven learning? In your experience, has one method been more effective than the other?
Phil Rhodes: I don't think they're mutually exclusive. That's not how we view it. We want to build an experience or journey that is going to be blended to touch as many different types of learners out there. There's tactile, there's verbal, there are processors — you've got people with language processing issues. When we think about it, we don't think either/or.
I actually think the pandemic brought a whole different mindset around engagement and learning, and we didn't have a choice. We had to go virtual, but we created engagements that made us human. We asked [employees] to put on a camera, and we went into breakout rooms where people could just talk.
Then, there are programs where we bring people together, in person, such as our driver new-hire training, our technician new-hire training, and some of our high-potential programs. We don't look at it as an either/or, but a blended environment.
"I actually think the pandemic brought a whole different mindset around engagement and learning, and we didn't have a choice. We had to go virtual, but we created engagements that made us human. "
Yasmin Gutierrez: Technology is just an enabler. It's one channel that can connect people in multiple ways. It's not the only solution. We take our business challenge first, then we design the experience based on the challenge. We don't lead with technology; we lead with a challenge.
Senior Executive Media: How do you foster employee interaction during training?
Phil Rhodes: The best learning comes when you're able to interact with and teach someone. The other thing is to just hear [things] from a different perspective.
There are several ways we [foster interaction]. One, if I think of our drivers and our fleet technicians, it's our largest workforce. They actually come into a brick-and-mortar training center, and they not only learn all the safety and equipment and Department of Transportation rules and regulations, but they do that in a simulated huddle environment. They're simulating being back in the workplace, and they are working as a team. They go through their learning in small groups or pods.
The Senior Executive L&D Think Tank is an invitation- only community for chief learning officers and senior-level L&D leaders at large organizations to share difference-making tactics, trade valuable resources, and seek the counsel of experienced peers in a private, confidential setting.
Do you qualify?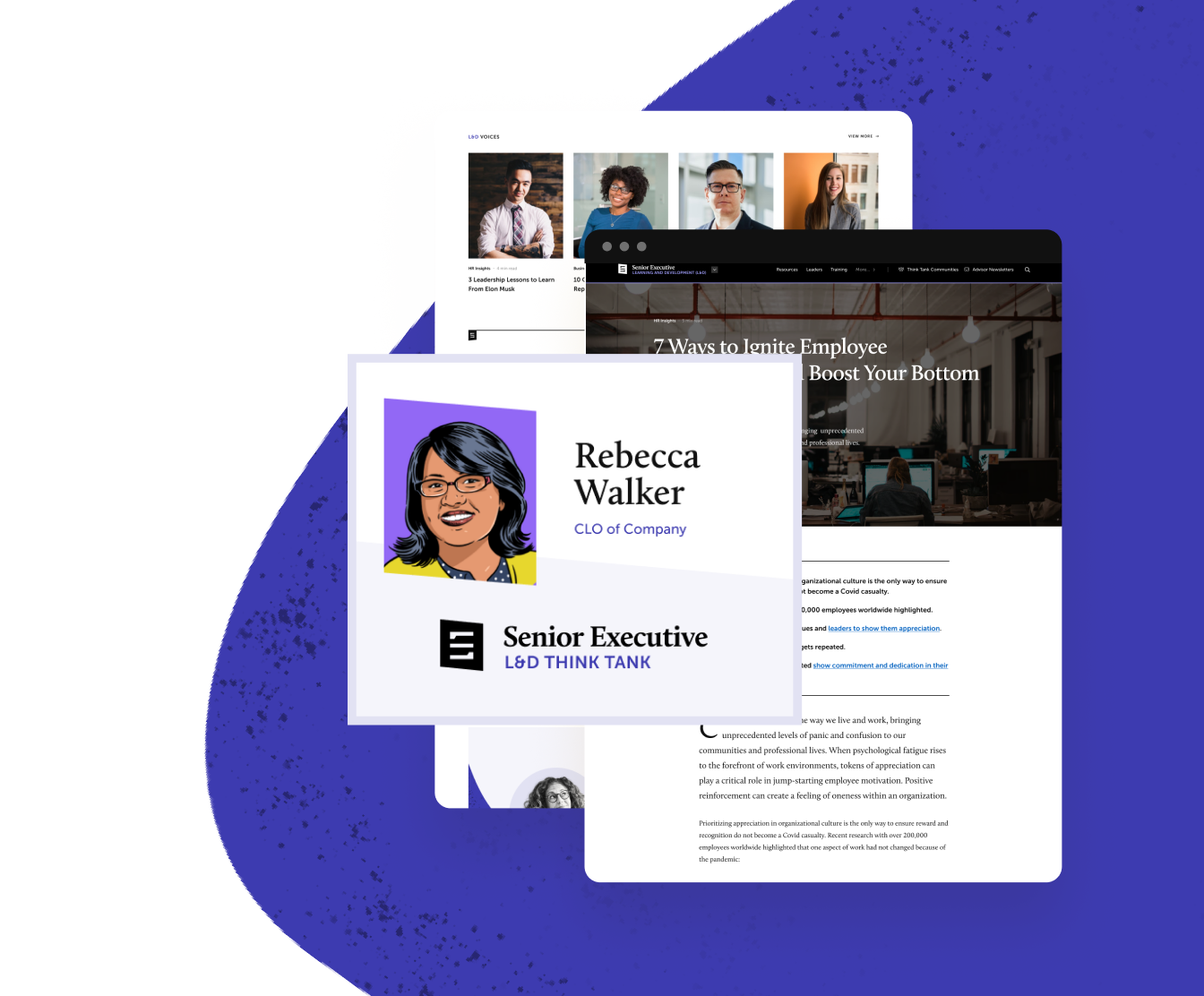 Senior Executive Media: What programs does WM have in place for leadership development?
Yasmin Gutierrez: For leadership development, we have a six-month virtual program, the Frontline Human-Centered Leadership Development [FH-CLD] program, that is aimed at our frontline supervisors. We run the program twice a year, and, in 2022, round one had 582 graduates, and round two had 532 graduates. Since going live in September 2021, 1,556 frontline leaders have graduated from the program.
A part of FH-CLD is Percipio, a leadership development platform that employees use to take skills benchmark assessments. Instead of [utilizing] a cookie-cutter approach where…600 participants take the same class or emotional intelligence course, each participant can go in and assess their own skills, and based on their skills level, will get automatic recommendations from the platform on where they need to continue growing and expanding their knowledge. We're leveraging technology to do the heavy lifting for us. As of September 2023, there were 2,262 active users.
Senior Executive Media: What other learning platforms have you rolled out to other parts of the workforce?
Yasmin Gutierrez: We're currently piloting a learning reinforcement platform. About a year-and-a-half ago, we started shifting the mindset from a learning event to more of a learning experience. We identified a gap of reinforcement through company surveys right after people would go through training. They started forgetting information fairly quickly. So, we knew there was a need for that reinforcement piece.
[The reinforcement platform] gives personalized training when it's needed. We're piloting it with our sales team…who logs into the platform two or three times a week. Every time they log in, they get three to five questions. Every time they go in, all they spend is five minutes. Let's say Phil and I are getting on the platform today, and we're learning about coaching. Phil answers correctly, and I answer incorrectly. The next time that Phil logs in, he will get more difficult questions. He will move from more knowledge-based to scenario-based questions because he has that foundation. The next time I log in, I will get the foundation information again. The platform is identifying where my gaps are and helping me reinforce what I need to before I move forward.
Senior Executive Media: You mentioned your COO began his career at WM as a trash truck driver. Are there other career advancement examples you can share?
Yasmin Gutierrez: WM has numerous training programs to help employees find the right path for them to build their career, regardless of where they start. For example, through internal development and mentorship, Betty Trimper, who started as a recycling sorter in Detroit, is now the head of recycling for Michigan and Ohio. Having many different roles throughout the organization along the way, such as fork truck operator, baler, and shift supervisor, has informed her leadership style, enabling her to understand the needs of her team better and provide the support they need to succeed. Another example is Matt Orr, who started his WM career as a litter picker at the Okeechobee Landfill and has risen to be the director of disposal operations for the entire Florida area.
Senior Executive Media: In your leadership training programs — what's the blend of technology and human-driven instruction there?
Phil Rhodes: When you look at our frontline leadership programs, it's all cohort-based. We're also looking at social engagement platforms, [because] cohort learning and learning from others is the foundation of everything we do.
Person-to-person [interaction] is important, because mindset is not something that you just change. You need to be convinced, you need to have conversations with people, and you need to break out into rooms.
However, I don't think it needs to be face-to-face anymore. It can be virtual. Coming out of the pandemic, the FH-CLD program was able to support our frontline leaders and their development and growth and give them skills around how to become a human-centered leader. We attached a coach to each of them, and they had access to this coach whenever they needed them — yet it was in a virtual space through their laptop or phone. We put over 1,500 folks in the program. If we do them six times over six months, that would be a million dollars in travel expenses. We were able to take all that travel out and invest that into the executive coaches who worked with them one-on-one.
"Technology is just an enabler. It's one channel that can connect people in multiple ways. It's not the only solution."
Yasmin Gutierrez: We build communities in that cohort environment. We want them to feel that they are part of our community, even after they finish the program. For example, they create very fancy, colorful Microsoft Teams channels where they interact with each other. They can continue conversations in asynchronous space anytime they want.
We also have them doing a lot of debriefs. The topic of these group session debriefs is what they learned during that specific month and how they are applying their newly acquired knowledge. It is an opportunity to reinforce behaviors and knowledge around our coaching model, build trust, and create an inclusive environment. It is also an opportunity for participants to share stories, real life experiences, and outcomes of their practices.
In the technician space, we have the more tenured techs building and creating their own videos and explaining processes. This is a pilot that was started late last year and is not mandatory. Techs receive recognition, but we are testing different incentives. We provide them with a list of the most needed and common topics, guidelines of capturing them on video, a list of needed equipment, and the approval process. Once they capture the videos, they share them with our designated fleet and safety teams who review them for accuracy before approving. Then, the videos are loaded onto our fleet community of practice, where the techs can search for a specific topic and watch the video. They're learning directly from their peers on how to conduct specific processes that they might need.
Senior Executive Media: What big pivots are you navigating as L&D leaders?
Phil Rhodes: Probably over half, if not 75%, of our workforce is not college-educated. We have this incredible benefit called Your Tomorrow where you and your dependents can go back to school, tuition paid [by WM]. You can get a high-school degree, certificate, bachelor's degree, or a master's degree for you and your dependents to create that upward mobility. Last year, we invested $10 million into the program, and, as of August 25, 2023, more than 2,670 team members and 620 dependents (spouses and children) have enrolled in a [degree] program through Your Tomorrow.
[Yet] we really are in this journey of trying to get away [from being education-based]. We're taking requirements out of our job descriptions around education and trying to shift to a more skills-based organization. You have to have those skills identified and be able to build those up within the organization. We're beginning to build our programs through the lens of skills, not through education or who you know…and assess you in that space. We can accelerate development.
Yasmin Gutierrez: We've started early exploration of virtual reality and augmented reality, because we see a possible fit for our technicians. About 65% of our workforce is on the frontline. So, imagine a technician not having to carry a big bulky document, book, or manual on how to fix an engine. They can just pull out their phone or iPad and scan a QR code to see the breakdown of the engine right in front of them. We're looking for, again, ways for technology to enable learning.
We're [also] exploring platforms that are more tailored to cohort-based learning, because we want to continue creating those communities within the programs that have an engaging connection point between peers. Let's say I haven't seen Phil communicating this week. I can send a nudge through the platform and say, 'Hey, I'm challenging you to this knowledge. Check in with me.'
Being able to find different ways for employees to interact, to increase social engagement, and also increase the competition that's going to help them move forward [is important].
---
Looking for more insights from top learning and development leaders? Read these exclusive interviews by Senior Executive L&D.