New ideas to improve your business can come from anywhere. Senior leaders must find ways to prioritize suggestions and find opportunities with the business potential.
When evaluating ideas at French insurer AXA, Business Innovation Center director Yann Bry turns to a scorecard that measures four elements:
What is the impact of the potential innovation two years from now? Beyond that two-year window?
Will the innovation scale in one or two major markets?
Can the innovation team leverage external partners to accelerate the process?
Will working with the innovation team shorten the time to market by six months to one year?
Present in 54 countries, AXA employs more than 153,000 people and insures 105 million clients in Europe. Offerings include property-casualty insurance, life insurance and asset management.
AXA Next is the company's innovation arm, made up of five units. That includes the Business Innovation Center, which works on innovative projects and scaling transformative business practices across the company.
During a conversation with Senior Executive Media, Bry took a deep dive into how the insurance company approaches innovation — including working with business units. Read the edited conversation below.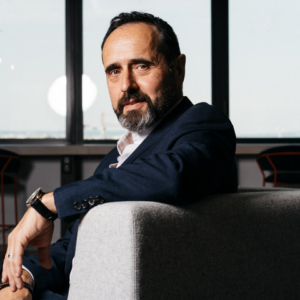 "You need to talk about business first, not innovation. Innovation is a means to an end."

Yann Bry, Director of AXA Next's Business Innovation Center
Senior Executive Media: What's an example of an initiative that you scaled after using your scorecard, and an example of an idea that did not scale?
Yann Bry: We decided to scale our internal digital platform [a risk scanning platform that helps clients understand risks before making investments] across several of our operating companies in Europe, as the project had high business impact and replicability scores.
As a counter example, a project designed to create new classes of insurance offerings for virtual assets on gaming platforms received only initial incubation funding. But after incubation, though it ranked very high on innovation criteria, it was assessed as low on strategic relevance and replicability across our existing businesses in the foreseeable future. As a result, this project [became] a separate startup with additional investment partners.
Senior Executive Media: Tell us a little bit about how you work with business units on projects.
Yann Bry: A couple of years back, [innovation] was a more centrally led process, where the Global Innovation Team at AXA came up with [and pursued] big bets. … [But there's now] recognition that a lot of the innovation is happening on the ground. We have a lot of ideas coming from the entities [businesses and business units].
We are careful not to work on ideas opportunistically, because the big difficulty for a huge company like AXA — which is very international — is to really scale. It's not enough to innovate locally at a small scale. [We have] to scale the best of that [innovation]. … When we are working on a topic, we ensure that it's strategic from a business perspective. Second, [that the project could benefit] several entities — that can be two, three, [or more].
Senior Executive DEI Think Tank is a criteria-based membership community for chief diversity officers and senior-level DEI leaders at large organizations to share difference-making tactics, trade valuable resources, and seek the counsel of experienced peers in a private, confidential setting.
Do you qualify?
Senior Executive Media: Do you have tips for innovating with the core business and business units?
Yann Bry: I see three core elements. One is that when you talk to the business, you need to talk about business first, not innovation. Innovation is a means to an end. It's a means to have a better business or a new business.
The second…is that you need to explain the added value you bring. … We are in a unique position to be able to scale across entities, because none of [the business units] have that mandate or that capacity. And we're very clear that we are good because…we have one foot inside the company, and we know the business enough. … We also have links to the ecosystems in San Francisco, in Shanghai, in Europe, to the tech ecosystem so that we can bring fresh ideas and new potential partners that will really accelerate.
We have co-funding mechanisms where the entity [core business] would invest a bit of money, and we would complement that, so there is risk sharing. And we can use that funding to accelerate early phases and make sure that we can go quickly to market.
And third, you need to be very embedded and plugged into the culture and decision making process of the company. This is where we worked a lot in the last year — plugging ourselves into our internal communities.