During the COVID-19 pandemic, people across the globe opted for virtual care from health providers. But even once the COVID-era is long gone, the adoption of telehealth will persist. The telehealth market in Europe alone is expected to grow to $21.8 billion by 2026, predicts research company Market Data Forecast.
"There are not enough doctors to deliver the health care that is needed. Countries and payers are tight on budget," says Ranjan Singh, CEO of London-based telehealth company HealthHero. "What COVID has done is accelerated the adoption of that efficient way of delivering it [care]…through remote [means]."
HealthHero offers a suite of virtual healthcare services that patients can access over the phone, through video calls or via online chat. That includes conversations with general practitioners and mental health providers.
"Right now, we talk about digital health as if it's something different from [in-person care]. It reminds me of how retailers used to talk about online shopping and offline shopping," says Singh. "[However, customers] didn't say, 'I'm going offline shopping now…' They wanted the product in the most convenient manner at the right price. That's where healthcare will move. So it won't be in a silo of digital telehealth, remote and then physical. It will be a more seamless blend…"
Singh co-founded HealthHero in 2019. HealthHero became Europe's largest telehealth provider at the end of 2021, after acquiring several healthcare companies, including Doctorlink in the U.K. and Qare in France. The company has over 800 employees and covers 30 million patients.
During an exclusive interview with Senior Executive Media, Singh shared how his team is hoping to expand its offerings and tips for others venturing into virtual care. Read the edited transcript below.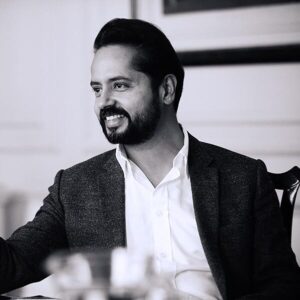 You really are dealing with life and death, right? … You can't launch a half-baked product.

Ranjan Singh, CEO of HealthHero
Senior Executive Media: Tell us about the ways you're trying to grow this business.
Ranjan Singh: What we want to do is go along what we call the care spectrum. … We do a lot of preventative health. Prevent them [patients] from falling sick. Obviously, continue to take care of them if they're sick on an episodic basis, but also manage more long-term chronic conditions. So ongoing disease treatment and management is also something that we want to do. The decision is which kind of disease areas we want to get into to provide an in-depth [care] pathway.
So if that's a spectrum, we are in the diagnose part. I want to go to predict and prevent, diagnose…and then treat and manage.
Senior Executive Media: How do you collect and act on patients' feedback on remote care products?
Ranjan Singh: A really big proportion of people we survey on a weekly basis… We conduct regular focus groups, and whatever feedback comes from there, we really implement in…improving our clinical service itself.
One example that comes to mind…was in France… In France, when people go to a doctor, they have to pay some money…upfront, and then they claim it back from the state. … We thought that taking this process out, and doing this for the users — like doing all the admin work and claiming it for them, so they don't have to pay — would be a big move, and should improve our business. So this was one big thing we tested. … Taking this process out, really was very, very successful.
Senior Executive DEI Think Tank is a criteria-based membership community for chief diversity officers and senior-level DEI leaders at large organizations to share difference-making tactics, trade valuable resources, and seek the counsel of experienced peers in a private, confidential setting.
Do you qualify?
Senior Executive Media: Share a piece of advice for someone entering the remote care space.
Ranjan Singh: It requires a lot of patience and resilience, more than any other sector, because you just can't do things that you do in other digital startups. "Move fast and break things" is the mantra of most digital entrepreneurs. You simply cannot do that in healthcare. And most of the people who come from a disruption mindset into health care…crash and burn, because it's a highly regulated sector.
Without dramatizing it, you really are dealing with life and death, right? Not most of the time. Most of the time is cold and cough, but you do find yourself in life-and-death situations. You can't launch a half-baked product. … Things move at a slower pace. Europe in particular is not a direct-to-consumer, self-pay market. That adds another dimension of complexity to it.