The American Cancer Society, a cancer research and advocacy organization, has served oncology patients and practitioners for 109 years. In 2022, the organization hired Dr. Arif Kamal as its first chief patient officer — tasked with leading ACS's patient-facing activities.
"That means prevention, screening and early detection; through support during cancer treatment; through survivorship, palliative care, end of life care, grief and bereavement," Kamal explains. "Our patient support pillar…reports up to me."
One important aspect of Kamal's job is to stay apprised of patients' needs — and the best practices for providing care. Kamal says there are three main avenues he uses to keep connected with patients:
Meeting with patients themselves. Kamal is still an active clinician, seeing cancer patients at Duke Cancer Center's Palliative Care Clinic. "That is boots on the ground, keeping the pulse check," he says. "It's very important to me that I have the ability to do that."
The American Cancer Society's internal feedback channels. In the future, Kamal says the organization will launch patient and family advisory councils to "provide a real-life check on the work." Today, feedback from clinicians and patients is collected in Salesforce, the group's CRM.
Listening to patient advocacy organizations and groups. "We want to be seen as a really good partner, who actively listens to what the needs are," he says.
The American Cancer Society comprises six geographic regions with 250 regional offices. ACS has more than one million volunteers who organize special events, aid political advocacy campaigns and assist patient support programs. The organization has 2,600 full-time employees.
Senior Executive Media interviewed Kamal during his first month as chief patient officer in February 2022. See the edited conversation below to learn more about the top priorities for his first year.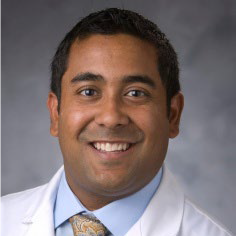 Every single leader, and frankly person, I've met at ACS so far…is someone I would love to have over to my house for dinner.

Dr. Arif Kamal, Chief Patient Officer at the American Cancer Society
Senior Executive Media: What's one thing that has helped you get oriented as you start your new role?
Dr. Arif Kamal: What the organization has done really well is allow me to meet with several folks to establish relationships that are relational.
Generally speaking there's two types of relationships. There's relational relationships, which means that people connect, because of similar interests, similar background, similar passions… Transactional relationships, on the other hand, are really because someone needs something from someone else… What we're trying to do here at ACS even more is to start all the relationships at the relational level. Let's talk about our shared passions. And that might have to do with our pets or children, where we grew up or going to college, our personal cancer stories or that kind of thing. Then, we'll get to the hard work. … I know what I have in common with every other person on the executive team level… I think that's really great.
I got advice early in my career from a mentor who said, "Life's too short, to work with people who you wouldn't want to have over for dinner at your house…" Every single leader, and frankly person, I've met at ACS so far…is someone I would love to have over to my house for dinner.
[Additionally,] I have created three communication channels to foster dialogue, brainstorming and growth.  These include a weekly video message to all staff, that includes a request, often couched as "Teach me about…" I enjoy hearing what our team members have to contribute to my continued learning in this new position and our organizational success.  Also,  I host regular listening sessions where small groups can meet with me and share their hopes, worries and ideas.  Lastly, I created a dedicated email inbox for team members only, so that any feedback can reach my desk directly.  I have been blessed with nearly 20% of our workforce having introduced themselves to me personally only two weeks into my role. 
Senior Executive DEI Think Tank is a criteria-based membership community for chief diversity officers and senior-level DEI leaders at large organizations to share difference-making tactics, trade valuable resources, and seek the counsel of experienced peers in a private, confidential setting.
Do you qualify?
Senior Executive Media: You're brand new to this role. What are your top priorities for your first year?
Dr. Arif Kamal: My priority to start is culture. We are undergoing a reorganization. So we now have four pillars [patient support, research, advocacy and resource generation]. Those four pillars in that structure did not exist before. So, we're orienting people to…the vertical that they work through, and so on. We're navigating that change.
What we want to do with our retention strategies is to highlight that this is mission-driven… I believe wholeheartedly that mission-driven employees will see ACS as the best-in-class work environment to realize their potential and change the world one patient and caregiver at a time… We are strategically connecting every team member's "highest and best use" to be applied in the areas of personal passion and patient need. … For example, one partnership manager is very passionate about head and neck cancer from her own experience with the disease, has identified that a local health system is also interested in exploring ways to increase HPV vaccination — as HPV is a leading cause of head and neck cancer — and is utilizing our ACS-developed quality improvement toolkits to assist in improving the rates.
Senior Executive Media: Your team communicates best practices for cancer care. How are you approaching that?
Dr. Arif Kamal: We are really building up an external communication team. We have a great one so far, but we're really exploring how to embed [that information] across all the different communications channels that are out there. Our most used and precious asset within the ACS is cancer.org. It is one of the most visited healthcare websites in the world. We are looking to optimize it so that we can provide real-time updates — so not only is it seen as a repository of information, but also seen as a close to real-time source for up-to-date information as well.
We are still building this, but are starting with strengthening our traditional and social media relationships so ACS is top-of-mind for fact checking for any issues related to cancer. For example…we have provided clarification to three media sources regarding some unfounded rumors related to cancer incidence and COVID19 vaccine circulating on social media. In the future, we will have a rapid action evidence center to proactively respond to questionable information in the public eye.