The full-body benefits of rowing no longer require a trip to water. In fact, exercise enthusiasts don't even need to leave the house.
Hydrow is an at-home rowing machine, created by CEO Bruce Smith in 2017. The machine includes a screen with pre-recorded and live content, where users can row along with instructors filmed on the open water. Today the company has 175 employees and saw a 500% increase in sales over the last year.
The rowing machine has already been adopted into the home gyms of many celebrities. With nearly $200 million cumulative funding, Hydrow's investors include household names in the entertainment space — from Aaron Rodgers to Lizzo to Justin Timberlake. In fact, comedian Kevin Hart currently serves as the company's creative director.
The next step, Smith says, is to get the $2,145 machine (plus it's monthly membership fee) to the masses.
"If you were paying for a high-end gym for your family, this is actually a great way to save some money," Smith says. "So it's making sure that people recognize that and don't think of it just as a luxury item. … It's for everybody."
During a conversation with Senior Executive Media, Smith discussed the challenges with scaling a startup and the importance of building a network of quality investors. Read the edited interview below.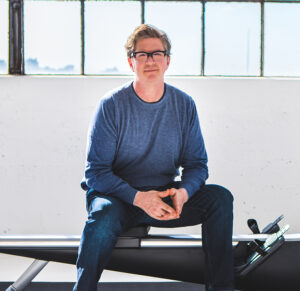 If you find one good person, there's something that I call the 'quality mafia,' and they recognize each other. And once you have one good person on your side, then they'll [bring along] all the good people in the industry…

Bruce Smith, CEO, Hydrow
Senior Executive Media: What are some tips for bringing investors into the fold?
Bruce Smith: If you find one good person, there's something that I call the "quality mafia," and they recognize each other. And once you have one good person on your side, then they'll all have the good people in the industry… You'll have a natural network of all of the best people.
And if you get started with somebody who doesn't have a really great reputation or hasn't earned that kind of trust from their friends, then you're going to be constantly at a disadvantage. And I've watched a few companies in our sector suffer from that. It's not so much the quality of the idea, it's the quality of the people that you deal with.
Senior Executive Media: Hydrow has this all-star cast of investors. How did you get influencers and celebrities to become ambassadors for you?
Bruce Smith: We are in gyms and hotels. I think most of our celebrities got exposed to it first, either at a friend's house or when they're traveling. We're in the fourth or fifth stories of Conrads and Ritz Carltons, and so there's a natural overlap there.
Senior Executive DEI Think Tank is a criteria-based membership community for chief diversity officers and senior-level DEI leaders at large organizations to share difference-making tactics, trade valuable resources, and seek the counsel of experienced peers in a private, confidential setting.
Do you qualify?
Senior Executive Media: When it comes to celebrity brand ambassadors, what's the criteria for who you're looking for?
Bruce Smith: For us, preserving the integrity of the brand and our mission is the most important thing. When we consider bringing a celebrity or influencer into the fold, the criteria isn't whether they have a blue check or millions of followers. … And of course, authenticity is critical — anyone can sit on a Hydrow and pose for a picture, but when someone has truly incorporated it into their daily routine, and can speak to how it makes them feel, or how it's improved their lives, that's so powerful.
It's also important that our celebrity ambassadors resonate with our members on some level. We've worked extremely hard to create a community that is inclusive, welcoming and supportive. We know our users are all different ages, have different backgrounds and have varying levels of experience when it comes to fitness. We aim to bring in ambassadors who represent different backgrounds as well, so that our members can see just how versatile rowing is, and how virtually everyone stands to benefit from working out with Hydrow.
Kevin Hart [Hydrow's Creative Director] has been instrumental in helping us redefine who can be a rower. It's not just for prestigious prep schools or people who live near a boathouse. The fact that he's learning and improving each time he gets on his Hydrow is so encouraging for people to watch.