In September 2021, tech-recruiting company Andela Inc. raised $200 million in funding. This Series E round — which put the startup at a $1.5 billion valuation — was led by SoftBank's Vision Fund 2. For Andela, the investment means the company can continue hyper-growth.
"We grew more than 100% in 2021, and really accelerated throughout the course of the year. [This coming year] is going to be a big year for us," says CEO Jeremy Johnson. "A big part of why we chose to work with [SoftBank] for this round was their familiarity with…moving very quickly into scale."
In 2014, Andela began its journey as a free six-month developer training program in Africa that placed graduates with software engineering jobs. In 2019, Andela scrapped its training program and focused instead on placing more-experienced developers in Africa with companies in need of software engineers.
At the start of the pandemic, the company expanded again, connecting recruiters to engineering talent in more countries around the globe. Companies in search of tech talent pay Andela for successfully placing employees on their team, as well as for added services like regulatory and labor-law guidance.
According to the company website, Andela's latest round of funding will be used to build a network of job candidates in at least 100 countries by the end of 2021. The company, which switched to a fully-remote workplace during the COVID-19 pandemic, was in 80 countries as of October 2021. Currently, Andela has 350 corporate employees. With hyper-growth abound, Johnson says, next year includes "a formal strategy around M&A."
During an exclusive conversation with Senior Executive Media, Johnson shared the complexities of scaling Andela. Here's an edited excerpt from our interview.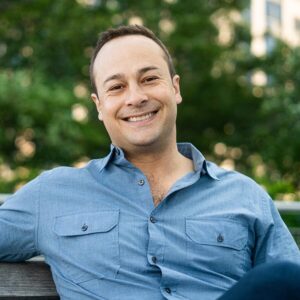 Every time a company roughly doubles in size, you've got to think through the systems and processes that got you there, and many of them are going to have to change.


Jeremy Johnson, CEO of Andela
Senior Executive Media: Your last investment round was led by SoftBank. Tell us about working with them.
Jeremy Johnson: We raised a $200 million Series E led by SoftBank… [They have] familiarity with hyper-growth and moving very quickly into scale. And yeah, that's gotten them in trouble at times. They certainly have had their fair share of challenges. I think what people often miss is that they also have done extraordinarily well by that strategy.
And it's fun to talk about big misses, but the big wins are giant. I mean, Coupang, as a single deal, returned over $25 billion to SoftBank. They've had such massive successes. … The notion of having them around the table as part of the support system is really compelling.
[I was also excited for] the chance to work with Lydia Jett, our new board member… In venture relationships, the brand is the firm, but the experience is the person. I care a lot about who's going to be around that board table, and how they interact with each other. And to what extent do they add value and try to bring generosity of spirit, trying to solve complex problems.
Senior Executive DEI Think Tank is a criteria-based membership community for chief diversity officers and senior-level DEI leaders at large organizations to share difference-making tactics, trade valuable resources, and seek the counsel of experienced peers in a private, confidential setting.
Do you qualify?
Senior Executive Media: Initially, you were working with talent based in Africa. Now, you're global. Tell us about why you decided to expand.
Jeremy Johnson: We realized in the early days of the pandemic, with the help of a handful of partners, that we could begin expanding the number of countries… The way that we conceptualized the company early on, was that we would need to build out entities [offices] in every country that we were going to enable talent to get jobs from. And what we found was that we were able to partner with other organizations, early on in the pandemic, to open up new opportunities for where talent could come from [without being physically located there].
Fast forward a year, and it was one of the best decisions we've ever made as a company. By opening up supply [by increasing the number of eligible candidates], we've been able to dramatically expand our ability to then place that supply [with companies in need of talent]. And therefore, we've been able to much more effectively scale the business.
Senior Executive Media: What were the steps you had to take to gear up to actually do the expansion?
Jeremy Johnson: We had to explore and make sure we understood compliance and labor law regulation in the different countries around the world. We were able to bring in a handful of partners — both law firms and technology firms — to help support that process. … So we were able to move more quickly than I think many would.
Senior Executive Media: Tell me about some of the challenges that come with growth and scale.
Jeremy Johnson: Every time a company roughly doubles in size, you've got to think through the systems and processes that got you there, and many of them are going to have to change… We are actively in that process, thinking through what are the systems that are going to have to evolve or change?
[For example,] changing our payment processing and billing system over the past couple of quarters has been one very simple [shift]. An even simpler [process change]: What is the structure of leadership meetings? What is the cadence? How often do you meet? What are the goals? … The bigger the group working on something, the more you need to document. It's part of why I think many successful companies try to minimize or at least maintain small group sizing for projects as much as they can, because you can move much more quickly, when there's fewer people to build consensus.
Part of it also is working through personnel, both being able to hire quickly enough, and having the right people on the bus. It becomes harder and harder, the faster you're growing. … And that's certainly one of my concerns for '22 is how quickly will we actually be able to hire? I'm pretty sure it's not as quick as we are budgeting for…