With a growing demand for flights and a constant need to replace retiring pilots (the FAA forces commercial pilots to retire at 65), a looming pilot shortage demands bold initiatives to fill the hiring pipeline.
United's plan: Hire 10,000 pilots in 10 years. United Aviate, a pilot development program launched in January 2022, is designed to help.
Reflective of a trend toward in-house training programs at U.S. businesses, the first creative component is Aviate Academy, a flight school run by United itself in Phoenix. "People who come here can start with zero hours and learn all the skills they need to become a professional pilot for United," says Capt. Curtis Brunjes, managing director of Aviate and pilot strategy for United Airlines.
Graduates of the Aviate Academy, as well as those from selected private flight schools, are eligible for Aviate's second component, a pathway program that includes a conditional job offer from United.
"Candidates can expect to land the job as the pilot of a United Boeing or Airbus aircraft in as little as five years," Brunjes says. "The first nine to 12 months are spent on FAA flight certifications, to include commercial pilot certification. Then, the candidate must complete a total of 1,500 hours, typically as a flight instructor, a process that can take as long as two years. Then, they can expect to spend a minimum of two years at regional airline partners before moving up to United."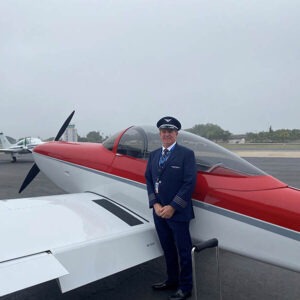 Candidates can expect to land the job as the pilot of a United Boeing or Airbus aircraft in as little as five years.

Capt. Curtis Brunjes, Managing Director of Aviate and Pilot Strategy for United Airlines
As of March 2022, Aviate has partnered with six flight schools for its pathway program, including Epic Flight Academy in New Smyrna Beach, Fla. Aviate offers a compelling proposition for students, says CEO Danny Perna. He says his team can introduce students to United's culture and encourage them to "go out and achieve these FAA requirements… Hit the benchmarks of further education. And there is a job waiting for you at the end of the pathway."
In addition to building a pipeline of high-quality, technically trained pilots, Brunjes says, "We really want [Aviate] to embrace the community and embrace diversity and inclusion and ensure that the cockpit reflects the demographics of our nation, which it doesn't presently, but this effort is going to get us there."
Read more about the Aviate program in this edited conversation with Brunjes and Perna.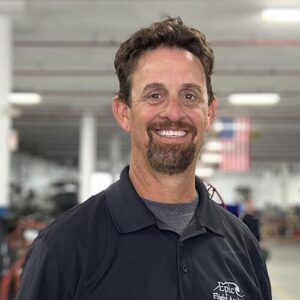 Making that pathway [to a full-time job]…allows young people coming in, or even people changing careers, to see that this is something they can do.

Danny Perna, CEO Epic Flight Academy
Senior Executive Media: How do you recruit diverse talent to fill your pilot pipeline?
Capt. Curtis Brunjes: What we're doing is trying to remove barriers to entry. Those barriers to entry manifest themselves in two particular ways. One is just that people need to know that this is an achievable goal for them. And we do that largely through our communications and through our role modeling. We have some wonderful role models here at United Airlines that are people of color…and make it clear to the community that this is something that's achievable — regardless of where you come from, and what you look like… On our website, we represent the colleges that we're partnered with, and we do have HBCUs [historically Black colleges and universities] on there… That helps to encourage diverse talent to come into the industry.
The second barrier to entry is economic… We also are partnering with organizations such as JPMorgan Chase for scholarships… We're making sure that we have a very good and compelling loan product available also for people.
Danny Perna: One of the biggest challenges we have in aviation is the achievability. Making that pathway [to a full-time job]…allows young people coming in, or even people changing careers, to see that this is something they can do… When we talk to the parents and students, we always tell them to budget $100,000 over the next two years of your core training. Core training is the time that you are learning and not generating any revenue. In that $100,000, we include incidental living expenses, also — so the actual time in the aircraft is about $70,000.
Capt. Curtis Brunjes: We had $2.4 million in 2021 that was granted [as scholarships to Aviate Academy students]. We will have an equivalent or greater amount in 2022.
The Senior Executive L&D Think Tank is an invitation-only community for chief learning officers and senior-level L&D leaders at large organizations to share difference-making tactics, trade valuable resources, and seek the counsel of experienced peers in a private, confidential setting. Coming Fall 2023.
Join the Waitlist
Senior Executive Media: What advice do you have for successful partnerships between organizations?
Capt. Curtis Brunjes: Something that's working really well for us, as it has in our partnership with Epic, is for us to have an overarching mission…as an organization at United Airlines — and then understanding very clearly how our partners can help support that. Then finding the partners that can fulfill the role that helps get us mutually and collectively to where we want to be.
Our collaborations are fairly easy to sell because they're so good for both parties. So on the United side, we are going to benefit so greatly from the things that Epic and Danny are doing in producing great, high-quality talent. And equally, we're going to propel their business to a place where they have a great value proposition to offer to the community, as a place to come at an effective price, get all their ratings with a guaranteed job with their partner, United Airlines. We think that the collaboration and the synergy between the two and the fact that it's so mutually beneficial is really the key to success and the partnership that we have, and the partnerships that we seek.