There's always something new to learn — whether that's the latest update to an artificial intelligence (AI) technology your company is using or a new skill that your workforce is racing to add to their resume.
As a CLO, ensuring that your employees are getting the development they need for career advancement is imperative. One way of making this happen is by establishing a company culture that has L&D right at the center.
Continuous learning has a world of benefits. In fact, 94% of respondents in a LinkedIn survey said they would stay longer at a company that invested in their development, and 80% of respondents in a Udemy survey said learning new skills would help strengthen their engagement.
Senior Executive L&D spoke to five chief learning officers across multiple industries to share firsthand strategies on how to build a culture of learning so that employee development is an organizational pillar.
1. Apply gamification to learning.
As an L&D leader, you can utilize gamification to create an interactive, shared experience that motivates employees to learn.
KPMG has experimented with gamification for employee training. The company launched KPMG Globerunner, a learning application where employees race around the world while being tested on the firm's service offerings. The single-player game includes a global leaderboard and a points system. KPMG found that the number of company clients increased by 16.3%, thanks to the training platform.
At Fanatics, the sportswear company developed gaming competitions amongst the workforce to encourage continuous learning in a competitive, healthy, and interactive way. Employees earn points, badges, certificates, and company-wide recognition when they complete training modules. Leaderboards are also utilized as a motivational tactic to guide and inspire users to continue learning. Dawn Stopha, the company's director of learning and development, says that gamification has worked wonders at Fanatics, not just for development, but for collaboration and engagement. Since being implemented, gamification has generated a 40% increase in learner activity across 10 countries.
2. Use a digital assistant to send employees learning reminders.
Another strategy you can use to increase learner engagement is automatic learning reminders. At PwC, the handy digital assistant Astro was introduced after employee feedback revealed that finding time for learning was difficult. Leah Houde, chief learning officer, decided to make things easier by connecting Astro to PwC's learning platform, My Learning, so that learners receive reminders about learning plan assignments and pop-ups with learning course recommendations that may sharpen their skill set.
"Astro is connected to everybody's calendars. Once you create your learning plan, it'll start saying, 'Hey, you have this one hour for e-learning on your learning plan,' or 'Here's when you have time on your calendar, would you like me to block that time on your calendar right now?' It helps people protect time to do the learning," Houde says.
3. Adopt programs that support learning anywhere.
It's one thing for employees to soak up all the learning they can while on the clock, but providing external learning programs that are available at any time allows learners to further commit to development whenever they choose.
"All employees have access to LinkedIn Learning, available on their PCs or mobile devices, which allow them to invest in their professional development, regardless of where they are," says Heather Drennan, senior director of talent development at Birge and Held, a private equity real estate investment firm.
Birge and Held is also introducing some fun and interactive ways of developing its trade workers from anywhere through a platform called Interplay Learning, a solution that provides digital learning simulations particularly for tradespeople on almost any electronic device. "Interplay teaches our teams how to diagnose and fix a number of maintenance issues like HVAC, plumbing, and electrical work through simulations available on VR, mobile, and PC," she says.
The Senior Executive L&D Think Tank is an invitation- only community for chief learning officers and senior-level L&D leaders at large organizations to share difference-making tactics, trade valuable resources, and seek the counsel of experienced peers in a private, confidential setting.
Do you qualify?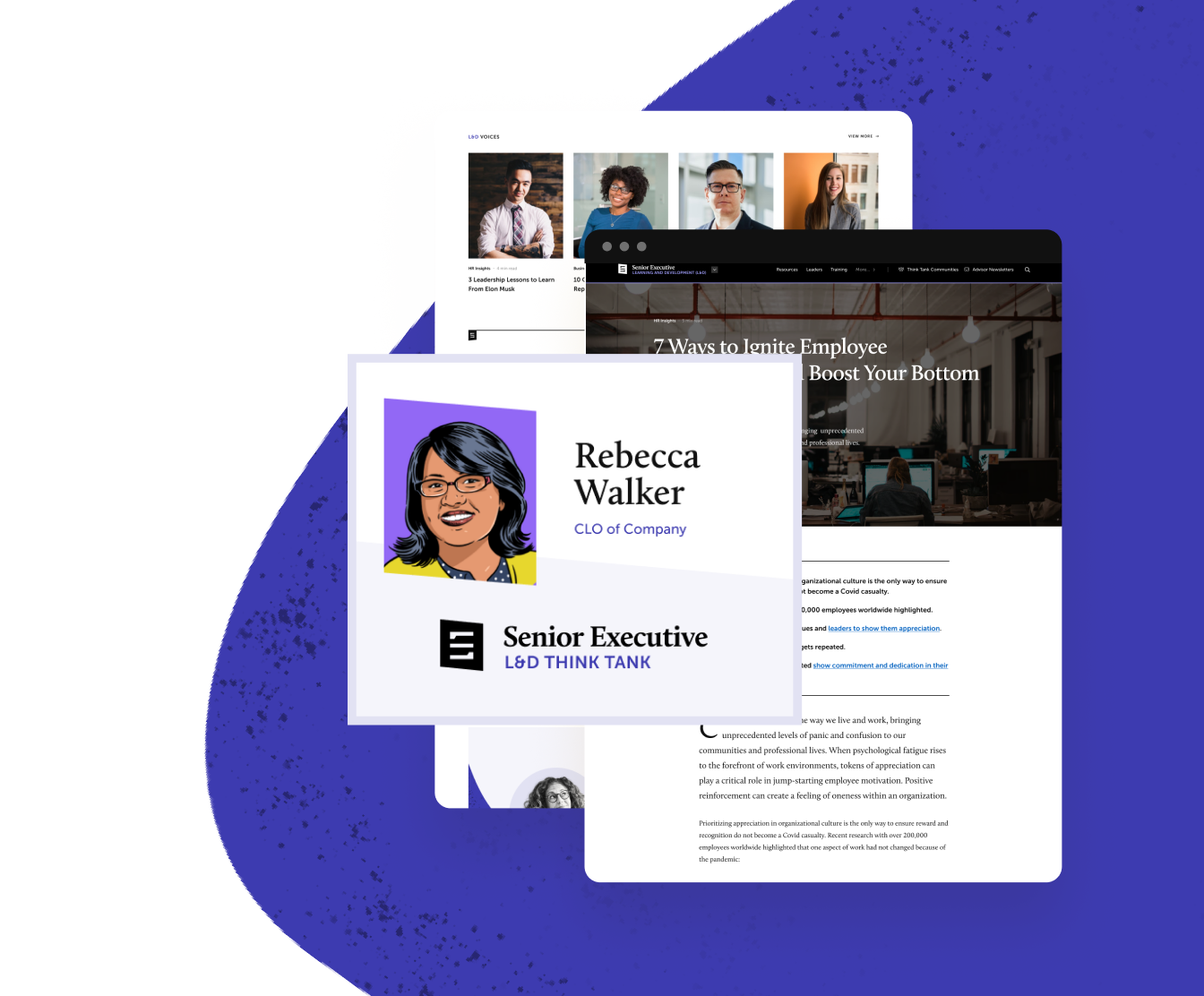 4. Implement employee resource groups (ERGs).
Not only are 90% of Fortune 500 companies utilizing ERGs — communities of workers who band together based on shared experiences and/or demographics — but 25% of employees say ERGs have positively impacted their work culture, and 21% say ERGs have positively impacted their overall success. These communities foster connection, collaboration, and information exchange.
Deloitte has several tech-driven ERGs, known as technology guilds (inspired by medieval times guild systems), where employees who share an interest in emerging technologies can engage in experiential learning. Since being introduced in 2017, guild membership has risen from 500 to 7,800 members.
"These guilds are focused on creating technology athletes that can move between various emerging domains such as AI, quantum, unlimited reality, and product design which are progressively reshaping the business landscape. In charting the journey of prospective Guild members, journey maps were crafted to cater to the diverse requirements of all learners and members," says Deb Johnson, chief learning officer of Deloitte Technology Academy.
5. Support learning through apprenticeships, mentorships, and internships.
Internships, mentorships, and apprenticeships are great ways to teach current and future employees skills and strategies that will serve them now and in the future.
Accenture has a yearlong, entry-level apprenticeship program for non-degree holders which serves as a merger between on-the-job training, mentorship, and continual coaching. Nearly 20% of entry-level hires come through the apprenticeship program, which has seen more than 2,000 apprentices in 40-plus cities.
W.L. Gore & Associates, Inc., a material science company, has a six-year-old 1:1 mentorship program for employees who want to learn more and be more involved. Participants of the yearlong program are selected in two ways: from gaps found by the company's annual culture survey and by referrals from ERGs.
After mentors and mentees complete a questionnaire to assess their needs and mentees set development goals they'd like to work toward, they're connected with a mentor who has the appropriate skills to help them reach their goals. "It's really about expanding and increasing the engagement and contributions of our associates," Terrence Dickenson, DEI specialist within the company's human resources department, told Senior Executive Media.
At Mount Sinai Health System, the SHARP internship program was established in 2015, giving hospital employees reskilling opportunities to work in departments or hospitals outside of their current roles. "Hosting over 160 internships to date, this experiential learning program increases collaboration across departments, broadens a wide range of skills and competencies, allows for the exchange of dynamic feedback and helps grow participants' networks for preceptors and interns alike," says Diane Adams, the company's CLO. "Participants report that this program is directly linked to an increase in scopes of responsibility, confidence, and career growth, with several participants being hired directly into their host department."