A one-stop resource featuring firsthand insights from chief diversity officers and ERG leaders on how to structure employee resource groups. Jump to the navigation links below for more information on annual ERG budgeting, executive sponsorship, staffing, and event ideas.
As a DEI decision-maker, practitioner, or ally, you're surely familiar with the concept of employee resource groups (ERG), also known as affinity groups. After all, nearly 90% of Fortune 500 companies have ERGs. But do you know how to best cultivate genuine value from your ERGs — and demonstrate that to your executive team? Have you evaluated best practices in employee resource groups at companies across the country to help your own ERGs thrive?
Senior Executive Media spoke with more than a dozen DEI practitioners across different industries to create this comprehensive guide to starting and building employee resource groups. We'll start with the basics of ERGs and then dive deeper, providing an evergreen resource that you can refer to when launching new groups and lean on when making the case for resourcing ERGs with your executive team.
Use the quick navigation links below to jump ahead to a specific topic:
---
What Is an Employee Resource Group (ERG)?
Employee resource groups (ERGs) are groups of employees gathered to focus on a unified mission. Your company may choose to call these "affinity groups," "business and employee resource groups," or another term. Regardless of naming conventions, the important thing is setting up your ERGs for success and business impact.
The size of each ERG varies by company. At Brandwatch, a software company with 1,000+ employees, the Pride Committee has been known to include as many as eight employees. Meanwhile, at Voya Financial, 25% of its 7,200 employees are members of one of its 11 ERGs. Employee resource groups typically meet once or twice a month, depending on their level of engagement. They host events and speakers and, at some companies, they drive product innovation.
Maceo Owens, community manager of employee resource groups at OpenTable and KAYAK and the founder of the ERG Movement says that ERGs are:
60% focused on community building
30% focused on business impact (How are we making inclusive products with the feedback of these groups?)
10% focused on general education, allyship, and resources
Having maximum business impact means limiting the number of ERGs at your company so you can truly support the groups you do have. ERG managers and chief diversity officers alike recommend a maximum of six to eight core ERGs at your company.
"I advise that people fight against the urge to spin up an ERG for every sub-identity. In my mind, they're all connected. I really loved the model of the primary group and then the idea of advisory councils or subcommittees within each of those ERGs. The reason why is because those are so much easier to scale, from a budget perspective, from an engagement perspective, from an executive sponsorship perspective," advises Kristen Weber, former head of diversity, equity, and inclusion at Convoy, Inc., an American trucking software company based in Seattle.
Your core ERGs will depend on the needs and community makeup of your organization. (More on surveying employees about ERGs in a moment…) As your organization continues to evolve, you may identify new needs and opt to add to your core ERGs.
Here are a few of the many communities you may consider when developing your ERGs:
Asian American and Pacific Islander employees
Black employees
Employees with disabilities
Latine employees
LGBTQ+ employees
Native American employees
Parents and caregiver employees
Pilipinx employees
Veteran employees
Women employees
---
The State of ERGs
The Rise Journey, a consulting company dedicated to addressing the gap in diversity, equity, inclusivity, belonging, and accessibility, conducts an annual survey on corporate investment in employee resource groups. The 2022 State of ERG Report, the organization's third annual report, includes responses from 187 executives at a range of organizations. Responses were collected during Q4 of 2022. Respondents included executive leaders at the C-suite level, in DEI roles, in learning and development roles, in human resources, and individual contributors. The majority of responses came from for-profit companies (84%), and the remainder of responses were from nonprofit, education, government, and other organizations. The importance of ERGs is on the rise; among the most important findings: 46% of organizations reported compensating ERG leads in 2022 compared to 6% in 2020. (See chart below, and look for more data from The Rise Journey throughout this guide).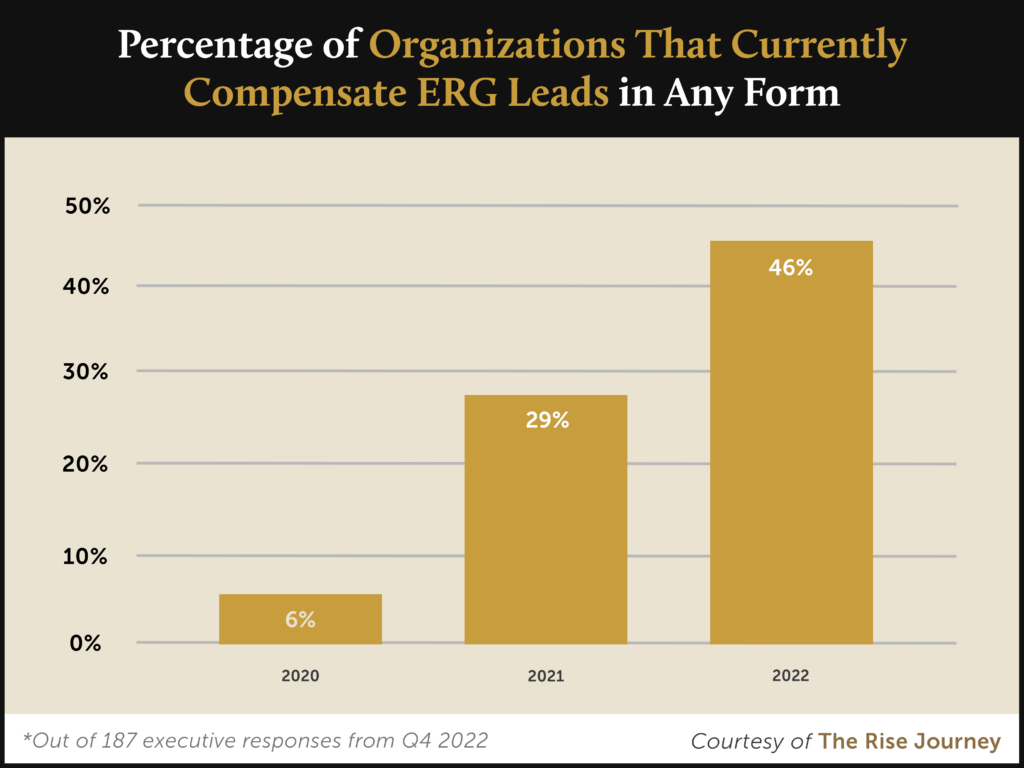 ---
The Benefits of Employee Resource Groups (ERGs)
In a 2021 Race in the Workplace Survey by McKinsey, employees rated the effectiveness of each employee dimension of ERGs. The key finding was that ERGs are most effective at building community within an organization.
ERG members reported:
66% effectiveness in employee community building
54% effectiveness in external engagement
54% effectiveness in allyship
46% effectiveness in leadership connection
40% effectiveness in career advancement
We asked ERG managers and chief diversity officers to share the impact employee resource groups have on their organizations:
ERGs can serve as an internal recruitment pipeline for finding new leaders from underrepresented groups. Imagine an ERG leader who's demonstrated leadership skills and is also a person of color. This employee has already proven their leadership skills, and can now apply them to the company in a full-time leadership role, advises Jes Osrow, fractional head of DEI at The Rise Journey.
ERGs can create a sense of belonging. ERGs have the power to connect underrepresented employees in the workplace. This can create a sense of belonging and community-building. "Our affinity groups continue to be a strong employee-led source of support that help to foster the diverse and inclusive environment that Duke Health is building. The groups serve as important avenues for open dialogue about issues — systemic racism, microaggressions, diverse hiring, etc. — impacting the work environment," says Ian Brown, chief diversity and belonging officer at Duke University Health System.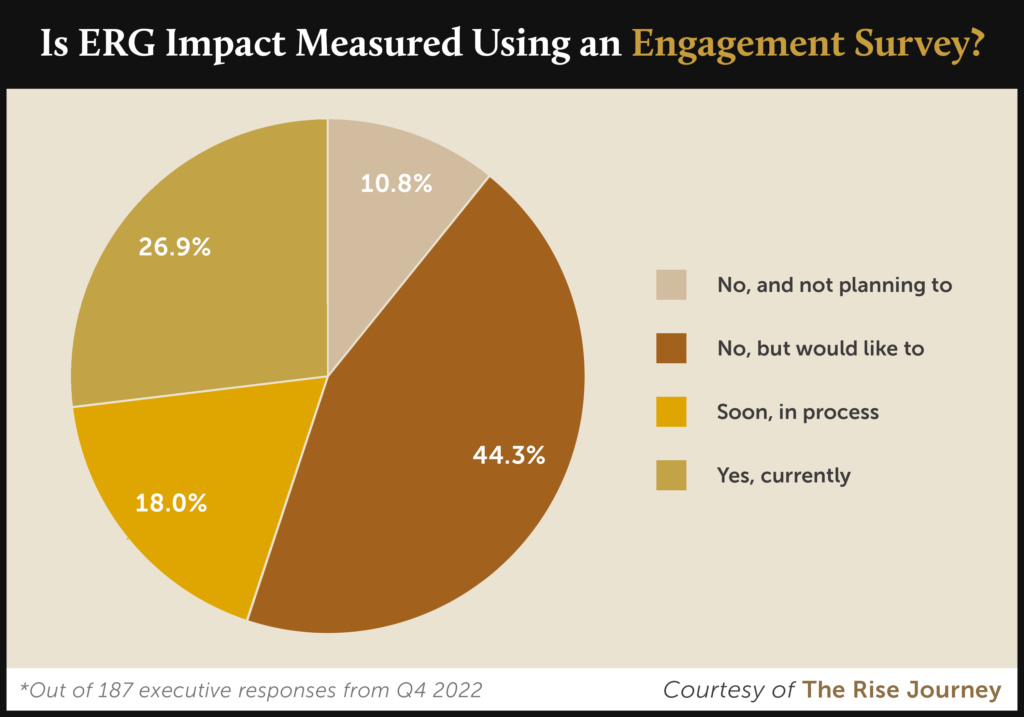 ERGs can support your business goals. If your business goal is to increase employee diversity of women and people of color in executive positions, you can ask the corresponding ERGs at your company for guidance and assistance during the recruiting process. People want to work at places where they see people that look like themselves in leadership positions. "ERGs also help us amplify our inclusion training programs that we have, that sort of application mechanism. Employee referrals are another important way that you're striving to build diversity in your sourcing strategy," adds Rolddy Leyva, chief diversity officer at Splunk, a data platform leader.
ERGs can help ideate new products. One creative way to leverage your ERGs is to give them opportunities to voice their ideas for new products. For example, Experian hosts Global Hackathons, where employees in ERGs present product ideas to a panel and then get funded if approved.
ERGs create allyship. ERG-led events and initiatives can create allyship among employees. For example, a Pride ERG may advocate for all employees to add pronouns to their email signatures to foster inclusivity. Based on employee feedback elicited by its ERGs, Dartmouth Health allowed employees to use their preferred names in place of their legal names on their name badges. At Voya Financial, employee-led councils created fact sheets of how to be an ally for each community.
ERGs have the potential to increase employee retention. While this hasn't been proven with data, it's common knowledge that if you can make people feel appreciated and seen, they will likely stay at a company longer.
ERGs can provide educational resources to help employees better understand underrepresented communities. While it's not an ERG's responsibility to be the educator of their community, ERG members may opt to create guides or other resources for employees. Brandwatch's Pride Committee recently created a LGBTQIA+ Handbook to promote awareness, respect, and understanding. The technology company created a PDF guide that covers allyship, common LGBTQIA+ terms, resources available to staff, and LGBTQIA+ legal rights around the world.
At the end of the day, ERG impact comes down to knowing your mission statement and making sure that any ERG-led initiatives meet the group's goals and objectives. Take the time to develop a clear mission statement, define your goals, and find an active executive sponsor who can help your ERG reach its maximum impact.
💡Tip: Start measuring your ERG impact. Here are a few ideas to get started:
Track member engagement. How many people are attending ERG-led events? Who are allies, and who are internal ERG attendees?
Track employee satisfaction. Email a survey following ERG events to learn if the event was impactful. Net Promoter Scores (NPS) can demonstrate the business benefits of resourcing ERGs.
Track business impact. Review overall employee retention rates against ERG member employee retention rates. Are there any trends in employee retention? Or, email an employee satisfaction survey to all employees and compare it against ERG members' responses. Are ERG members experiencing a higher satisfaction rate at their jobs? While surveys are often anonymous, one question can ask whether or not the employee is a member of an ERG.
---
Senior Executive DEI Think Tank is a criteria-based membership community for chief diversity officers and senior-level DEI leaders at large organizations to share difference-making tactics, trade valuable resources, and seek the counsel of experienced peers in a private, confidential setting.
Do you qualify?
How to Start and Create Employee Resource Groups (ERGs) at Your Company
The number one way that employee resource groups are launched is through employee advocacy. Employees will often self-form groups or ask HR if they can form an ERG — and if the company will support it. Additionally, your organization can proactively launch a survey to ask employees what employee resource groups would benefit them.
Guishard Revan, an ERG manager at a tech company, advises looking at existing data points about your employee population around race, ethnicity, gender, and job levels. Not only can the data inform you of the opportunity areas to further create an equitable workplace from the performance management and promotions processes, it can also inform where there may be gaps in the ethnic/racial background of the employees if it doesn't reflect the external community population as a whole.
It's also important to build in survey questions to understand what your employees are looking forward to in an ERG: Are they specifically seeking professional development, mentorship, networking, or all of the above?
"To me, it really does have to be a process that starts with involving employees. The right survey questions will ensure you create an ERG that meets the needs of the current underrepresented employee population(s)," adds Revan.
Once you've created your survey, you'll want to have a communications campaign to promote it, ideally with the support of a senior leader. Having the survey sent directly from a senior leader demonstrates your organization's commitment to its employees.
It's important to look at what the data is saying and connect it to your overall business, DEI, and HR goals. ERGs should strategize to support these goals.
"You want to start with not only using and leveraging data to say, 'Okay, here's where we're falling short in terms of a path-to-promotion and low recruiting numbers for underrepresented talent,'" advises Revan, "but also to say, 'How do we partner with ERGs to work to better our progress as a company in these key areas?'"
---
Creating Mission Statements for Your Employee Resource Groups (ERGs)
ERG mission statements don't have to be long. In fact, they can often be summed up in one to two sentences. The most important thing is to clearly define your audience and your goals, so that employees as well as executive leadership understand how they can best support your ERGs.

Here are a few examples of ERG mission statements we've assembled from the many DEI leaders we interview regularly:
Company
Name of ERG
ERG Mission Statement
Experian
ASPIRE
ASPIRE's goal is to grow a supportive community that addresses mental health, advocates for those with disabilities and supports caregivers.
Duke Health
Duke Health LGBTQ Alliance
Duke Health LGBTQ Alliance is open to all lesbian, gay, bi-sexual, transgender, queer, questioning, intersex and asexual (LGBTQ+) team members within Duke Health, along with colleagues who would like to show their support. Activities include professional networking, social events and community service.
Ford
Ford Hispanic Network
Ford's Hispanic Network Group (FHNG) promotes cultural awareness, community service and diversity within the labor force. Through service and support, FHN strives to be a positive force in the Hispanic community as well as to employ, develop and retain Hispanics in the workforce.
Splunk
Neurodiversity@Splunk
Neurodiversity@Splunk provides a voice, visibility, support and community to Splunk employees either affected by, or caring for a family member or friend with, a neurodivergent condition.

Raises awareness and educates fellow Splunkers through trainings, workshops, panels and other events with the aim of addressing and reducing unconscious bias and stigma around a diverse array of neurodivergent conditions.

Provides a foundation of support for and connection to members who share similar experiences, attempting to reduce isolation commonly experienced as a result of neurodevelopmental and mental health conditions, while providing information and links to helpful resources.

Provides a platform for greater community outreach and advocacy efforts, including volunteer opportunities and partnerships with mental-health nonprofits

You can read more about crafting an effective ERG mission statement at The ERG Movement, an ERG community website and resource hub created by Owens.
---
Challenges of Managing Employee Resource Groups (ERGs)
Just like any committee, the bigger the ERG, the more challenging it is to manage. In order to keep meeting invites and member lists organized, read our article, "7 ERG Resources for Executives."
Here are the key challenges of managing an ERG:
Burnout: If your acting ERG leader is also a manager in their full-time position at your organization, they may experience burnout as they try to juggle multiple responsibilities. Due to competing priorities, an ERG leader could be demonstrating incredible leadership skills in their group while struggling to perform their full-time job responsibilities at the company.
No ERG Structure: If an ERG doesn't have a process for coordinating meetings or organizing events, there may be confusion from members as to next steps.
Lack of Resources: Resources doesn't have to just mean money. If an ERG doesn't have an executive sponsor, the ERG may have trouble implementing its initiatives across the organization. Similarly, a larger ERG may need an automated process for sending out invites to meetings if it has more than 100 members.
Lack of Time: If ERG members aren't given an allocated amount of time in their regular workday to participate in their group, they may struggle to find time to participate or lead events.
---
How Much Money Should You Budget in Support of Your Company's Employee Resource Groups (ERGs)?
ERG budgets vary, and your company's support for them doesn't always need to be financial in nature.
As an ERG manager, Owens warns, "More money does not equal more impact. ERG leaders need to learn how to make money, make an impact." She advises companies to set aside a minimum of $1,000 per ERG per year.
Weber makes the case that ERG leaders should get acknowledged for their time because "a lot of times groups are taking on a lot of emotional labor and extra labor to educate other people." She shares that, in a prior role, the CEO advised allocating 10%-15% of ERG leaders' time to their ERG responsibilities.
"That legitimized being an ERG leader. It showed that there was an understanding, at the highest level of the company, of the value of the ERGs, and it gave them the time to work on it, but also the recognition that it was an important part of their job," adds Weber.
Additionally, Weber advises ERG leaders to set guidelines around how they spend their budget. One tip is to refer back to the 4C Model, a framework for ERGs. The 4C's are career, community, culture and commerce, as defined by Dr. Robert Rodriguez, president of DRR Advisors, a management and diversity consulting firm. The idea is that by looking at your budget through the lens of these four categories, you'll be able to effectively assess whether your spend is having an effective impact.
💡Question: What should your annual budget be for ERGs?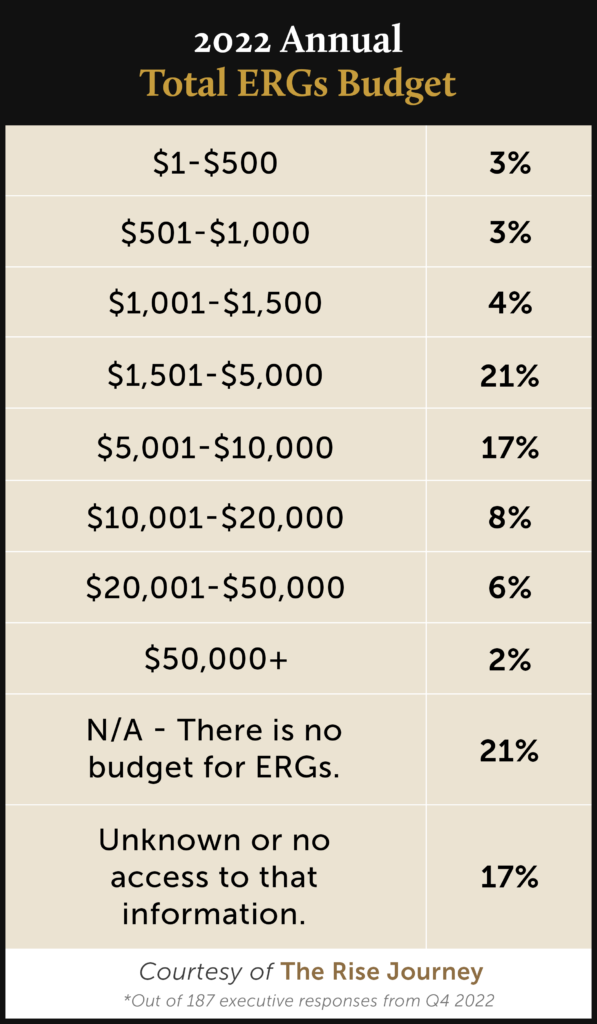 Here are a few of the best ways to spend an ERG budget:
Incentivize employees to take on tasks that support your ERG's cause. This can have a longer impact than paying for a one-time speaker presentation.

Example: Buy two tickets to a pride festival, which will be raffled off to people who add pronouns into their email signature.

Invest in learning. Remember, it takes more than one event to have a long-standing impact. Follow up any learning investments with ongoing discussions.

Example: Invest in an online learning and development course that everyone in your ERG can take. Then, host weekly discussions — a la a book club — to share learnings and findings.

Invest in a consultant to lead a workshop on a focus area that helps your ERG meet its goals.

Example: If pay equity is your ERG's goal, invite a consultant who can speak on negotiation strategies. Or, if your ERG is focused on networking, invite a consultant who can run workshops on effective communication.

Invest in automation. If your ERG has more than 100 employees, you can save time by using programs such as Doodle or Calendly that automate event invites and emails. This will save you time when you host ERG-held events and internal meetings.
---
Staffing and Leadership Models for Your Company's Employee Resource Groups (ERGs)
Generally, ERGs are led "informally" by employees on a volunteer basis. Angela Harrell, chief diversity and corporate impact officer at Voya Financial, shares that her organization has 11 employee-led councils, with each council containing five leaders: the chair, vice chair, programs committee, treasurer, and communications leader.
ERG leadership roles are commonly filled through a nomination process, and held by full-time employees who elect to volunteer for the ERG in their free time.
If you're working at a larger company, you may decide you want to hire a full-time ERG manager (also commonly referred to as an ERG community manager) to make sure your groups are all on the right track. ERG managers are commonly found at tech companies that have a large employee population and need the additional support to standardize their ERG processes. Note: If the ERG manager does their job well, you may only need them at your company for a few years.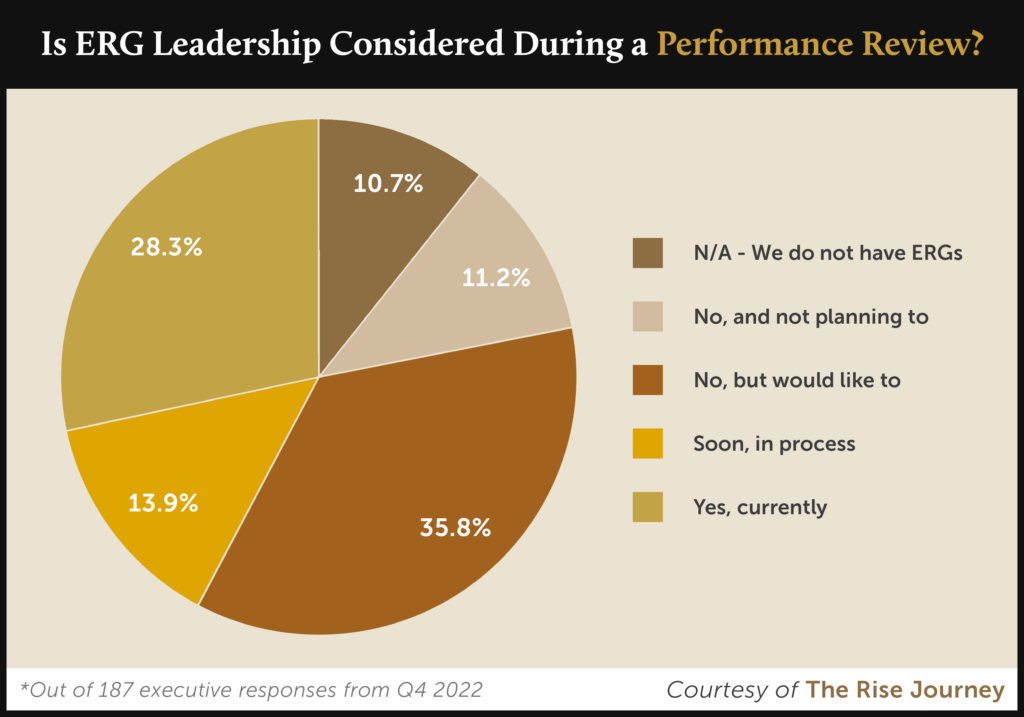 Here's a breakdown of some common ERG leadership and staffing roles:
Formal, Full-Time Paid Positions:

ERG Manager: Guides a company to create the long-term vision of their ERG program. This often starts with a listening tour to understand the needs of the ERG leads. The ERG manager's role may include training ERG leads, aligning ERG goals with the overarching company initiatives, onboarding executive sponsors, or building ERG hub websites.

Informal, Volunteer Positions:

ERG Lead/President/Chair: Leads each meeting and strategic initiative for their ERG. May also send internal communications to the group.
Vice President/Vice Chair: Supports the ERG leader with goal-setting and strategic initiatives.
Executive Sponsor: Member of the executive leadership team who advocates for and supports the work of an ERG to help get company-wide buy-in on initiatives and goals.
Program Committee: Leads planning for ERG-led events which may include researching guest speakers or professional development opportunities.
Notetaker/Communications Lead: Takes notes during ERG meetings.
Treasurer: Keeps track of ERG spending and budgeting.
Analyst: Measures ERG progress by creating surveys to track ERG event attendance or event attendee satisfaction.
Consider: If you work at a large company with more than 100 employees per ERG, does your company have the budget to hire an ERG manager to develop your groups? If so, do you want to hire a full-time ERG manager or a consultant?
If you work at a smaller company with less than 100 employees per ERG and a separate ERG manager isn't necessary, look at the amount of work each ERG leader is doing.
💡Question: How should you recognize ERG leaders?
When deciding if ERG leaders should be compensated at your organization, you'll want to meet with your executive leadership team to discuss:
What is your company budget for ERGs?
How much work is each ERG leader doing? What percentage of their week is spent on ERG-related tasks?
How do you want to compensate ERG leaders? Do you want to compensate them financially or through professional development opportunities?
---
Executive Sponsorship of Your Employee Resource Groups (ERGs)
Executive sponsors can have a big impact on whether your company meets the individual goals of its ERGs. For example, perhaps the LGBTQ+ ERG at your company wants to remove any gendered language from job descriptions. Having a senior-level executive at your company who can act as an advocate and support this goal and explain its importance to the entire executive team will increase the likelihood that the initiative will be implemented.
How to Find an Executive Sponsor
Choose an executive sponsor who is educated about the ERG they will be serving. "At a company that's just forming ERGs, it's really important to have people who hold those identities as the executive sponsor, because it reduces that emotional burden," advises Weber.
As a former chief diversity officer, Weber has also seen successful executive sponsors who were allies of the specific community of an ERG. She says that allies might be a better fit at a more mature organization where there may be less of an emotional burden to explain what the community is experiencing.
Additionally, the executive sponsor should always be a senior executive-level employee, because they have access to spaces, resources, and people that ERG leaders don't.
Defining the Role of an Executive Sponsor
The most important thing when setting expectations with your executive sponsor is defining the time commitment, advises ERG manager Revan. In addition to time, he notes that you need to be clear on how you expect an executive sponsor to support the ERG and their leaders. Will they serve as a mentor or advisor, an advocate, business integrator, or all of the above?
"These are very busy senior leaders, so you can't go into these relationships not knowing what the ask is for them," says Revan. "Be clear on the cadence of touch points and give examples of what you envision their role to be. For example, will they send an all-company email during the ERG's heritage month and/or join panel discussions as a speaker/moderator to show full support?"

He notes that you'll likely want to share what's in it for the executive sponsor as well: Being an executive sponsor is a good visibility opportunity, especially if the sponsor happens to be a new senior leader in the C-suite or at the SVP level. In addition, executive sponsors have the unique opportunity to connect their business objectives to DEI to solve issues for clients or consumers that likely reflect the target audience of the company — a key competitive advantage. Being an executive sponsor also serves as an opportunity to better understand employee needs and develop the company culture from the ground level.
Impact of Having an Executive Sponsor
A good executive sponsor will help drive the budget for an ERG, get executive buy-in for ERG-led initiatives, and create a sense of belonging for their ERG community in the larger organization.
"[Executive sponsors are there] not just to keep people happy and fill in a checkbox, but because they actually care and they want to commit to the ERG. It's about making sure that whoever is the executive sponsor does turn up to meetings, does have a voice, does take discussions held up in a meeting back to the executive team, and helps drive suggestions and the budget," says Rich Goodman, senior data infrastructure engineer and ERG leader of the Pride ERG at Brandwatch.
You can read more about the essential roles executive sponsors play at The ERG Movement.
---
How to Brand and Promote Employee Resource Groups (ERGs)
Just like with your organization, having a micro-level brand identity for your ERGs can help create a sense of recognition and familiarity. Branding your ERGs can be as simple as creating a logo or creating a branded name. The benefit of branding your ERGs is that the logos can be used in external marketing, especially for big awareness holidays that happen every year.
Naming Your ERGs: When determining the name for your ERG, you'll likely want to mention the community represented. You may also decide to incorporate your company name into the group name as well. You can see an example from Splunk online, such as their Veterans@Splunk ERG.
Create Logos for Your ERGs: You'll note that some companies may choose to have the ERG logos match the company's corporate logo colors or incorporate the company name. You can see a few examples from Discover and Duke Health on their websites.
Spotlight ERG Leaders: On your company website, you may decide to feature some of the ERG leaders at your company. Perhaps you feature a photo of the leader with a quote explaining their impact. You can see an example from Marqeta online.
---
Event Ideas for Employee Resource Groups (ERGs)
When it comes to events, there are several different approaches an ERG might take. An ERG leader may choose to plan events around professional development, community networking, or building belonging through recognizing holidays. This will depend on the ERG's goals and mission.
Here are a few examples of ERG-held events that work for any ERG budget:
Celebrations by DEI Holiday
ERGs may opt to host celebrations for holidays in their community — both to celebrate and to educate their fellow employees. This can help employees feel understood by their community of peers, and it can be done with any budget. A Women's ERG may opt to host a free series of Women's History Month events, such as trivia or a book club. Browse our Women's History Month Guide for more ideas of how to celebrate.
Or, an ERG may choose to spend their budget to support local communities. For example, PMG's BIPOC ERG hosted a virtual empanada-making class for Hispanic Heritage Month and sent gift boxes with items supporting Hispanic-owned small businesses.
View our DEI Calendar for a list of upcoming holidays.
Lunch and Learns
ERG leaders can host discussions over lunch to create space for important conversations to build their community's professional development skills. Perhaps a Black ERG is focused on increasing opportunities for advancement within their organization. The group may opt to host a lunch and learn on how to find a sponsor or mentor at their company. Or, a Pride ERG may host a roundtable event about trans inclusiveness in the workplace. If your executive sponsor reflects the ERG group they are supporting, a lunch and learn can serve as an opportunity for them to lead a discussion and share their personal experiences.
Guest Speaker Sessions
ERGs can invite guest speakers to come into an organization and impart their wisdom. However, be mindful that each guest speaker can easily cost $15,000 as the starting price point. Instead of letting guest speakers put a dent in your ERG budget, you can opt for cheaper routes by inviting less well-known guests who may be willing to speak for free or by finding more affordable speakers through learning platforms.
Weber recommends electives.io, a learning platform which has a library of guest speakers on multiple topics who are significantly more affordable than speakers who are represented by speaking bureaus. The platform also offers digital courses, which range from LGBTQIA+ Inclusivity Training to Anti-Asian Racism and Mental Health. The organization works with companies to offer flexible pricing packages. "[Electives.io] have taken over the logistics piece…they will notify your company a month or two months ahead of big holidays like Black History Month or Pride Month, and say: 'Here's some speakers that you can choose from'. Then they do all the logistics and planning, and they have a Slack integration which makes it even easier… They can push calendar invites and they take control of all the registration," says Weber.
Community Volunteering
ERGs can also show their support by volunteering in their communities. For example, Takeda Pharmaceutical Company's ERG, the Black Leadership Council, volunteered with Year Up to share professional development tips with young adults in a virtual job training program, Professional Pathways. The council has also volunteered by creating holiday gift bundles for various Massachusetts Department of Children and Families (DCF) with the nonprofit Wonderfund.

Additionally, Brandwatch, a technology company, has sponsored programs such as Code First Girls and Coding Black Females in an effort to increase the rate of women in the tech industry. Employees volunteer their time to teach a programming language to people within each cohort.