Employee development is about to become more personalized, streamlined, and measurable, thanks to technological tools available to chief learning officers who budget for them.
"The rapid advancement of technology has significantly impacted [learning and development]," says Joel Garfinkle, an executive coach who also facilitates leadership development programming for Fortune 500 companies.
After all, the COVID-19 pandemic accelerated the shift toward digital learning platforms, e-learning, and virtual classrooms, he says. So CLOs are investing more in learning management systems (LMS) and e-learning content to facilitate remote and hybrid learning. In fact, the corporate LMS market is expected to grow by 21.1% from 2023 to 2027, according to a report by India-based market research publisher Markets and Markets.
Incorporating trends that will take up substantial resources requires advanced planning. "A typical budget planning timeline is 12 to 18 months, allowing for demand sensing, prototyping, and piloting initiatives in advance of formalizing budget requests," says Jim Hemgen, talent development lead at IT consulting firm Booz Allen Hamilton.
But L&D leaders also need to build some flexibility into their budgets, so they can adjust as trends and teams develop throughout the year. "While we forecast annually, we anticipate that hot topics will come up and we respond accordingly," says Jeff Orlando, chief learning officer of global pharmaceutical company Bristol Myers Squibb (BMS), who is focused this year on decision-making, innovation, and the use of AI in modeling for clinical trials. "However, we are at our best when we can forecast the skill development needs a few years out based on our business plan, and build pathways that let our people build capability over time through education and deliberate practice."
Here are the trends on the minds of L&D executives who are budgeting in advance to adopt new features:
1. Using Adaptive Learning Systems and AI to Personalize and Measure L&D Experiences
In recent years, Booz Allen Hamilton has focused on uniting disparate technical ecosystems.
"We integrated our human capital management system, learning management system, learning experience platform, and talent marketplace to form a systemic approach for connecting employees to learning," says Hemgen.
With their career journey in mind, employees have used the integrated system to seamlessly connect to digital internal and external upskilling and certificate programs.
"By evolving our technology system, we have stretched the impact of our L&D budget to increase our offerings and online course capacity," Hemgen says. "Shifting from in-person delivery pre-pandemic to virtual instructor-led sessions post-pandemic increased Booz Allen's seat capacity from 75% to 95%. Savings derived from hosting brick and mortar classroom instruction is reinvested into offering more online sessions to meet upskilling demand."
Self-paced training consumption at Booz Allen continues to climb, with 9,300 users consuming 70,000 hours over the past fiscal quarter, up from 6,700 users and 52,000 hours in the same quarter a year earlier.
Looking ahead, Hemgen says that the consulting firm "is actively using [artificial intelligence/machine learning] to provide intelligent data management within its talent marketplace."
By examining employee career profiles, which are generated through self-reporting specific skills, certifications, and experiences, AI powers career mobility by comparing course titles, descriptions, tags, and lessons to recommend gigs, learning, and potential mentors, he says.
The Senior Executive L&D Think Tank is an invitation- only community for chief learning officers and senior-level L&D leaders at large organizations to share difference-making tactics, trade valuable resources, and seek the counsel of experienced peers in a private, confidential setting.
Do you qualify?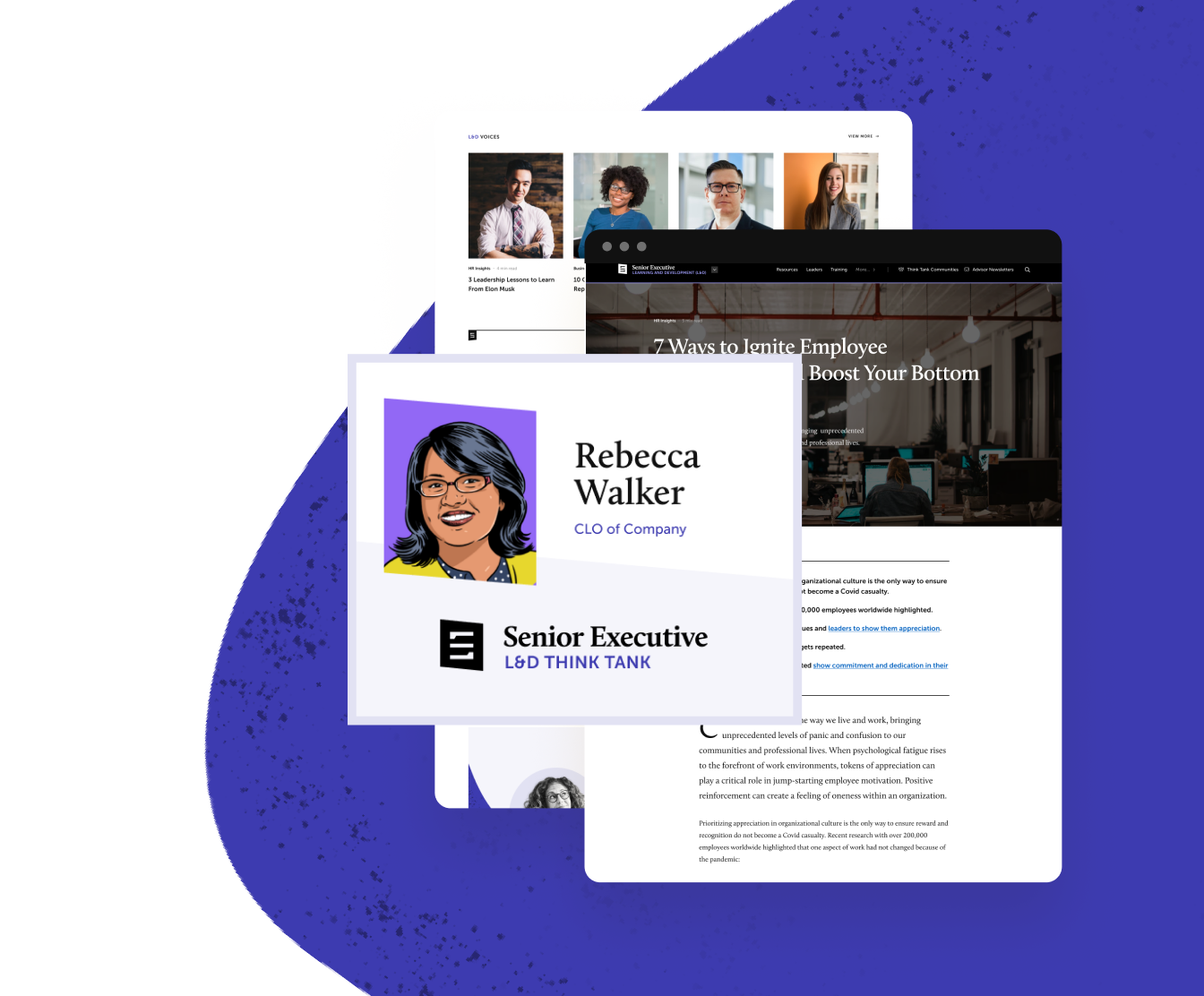 Orlando concurs: "Personalization is the future of learning and development. As digital learning systems become more sophisticated, we'll be able to deliver 'precision learning' to each person."
For instance, as part of its multifaceted leadership development program, BMS asks its senior leaders to complete an assessment that asks how frequently they engage in specific capabilities critical to the company.
"Following this assessment, we run an algorithm to identify development resources, courses, and experiences that best match the leader's development needs, and provide these tailored recommendations," says Orlando. "They are 'precise' in that they reflect the needs of each person, and where they are looking to grow."
Clinical research organization Parexel recently invested in an updated version of AI-powered talent experience platform Cornerstone OnDemand to explore its adaptive learning capabilities, says vice president of L&D Melissa Milani. 
The e-learning platform allows employees to move on if they understand the subject matter. "There's a lot of opportunity for us there. We've done some of that already, but the way that's designed is complicated, so we're looking forward to metrics we can get out of Cornerstone," she says.
Previously, quizzes deployed through the LMS would only indicate pass or fail with no additional information. "New LMS technology allows us to collect data on what questions [employees] are missing and the opportunity to analyze trends as well as where additional learning support may be needed," she says. 
2. Using AI to Streamline Development and Delivery of L&D Content
Executives also plan to use AI to streamline the delivery of L&D content.
For example, Hemgen of Booz Allen expects generative AI to be utilized in content development, which will therefore "reduc(e) time to market and improv(e) content assembly, learning support, analytics, and (the) employee digital experience."
At Parexel, one of the L&D team's five experienced designers brought to Milani's attention that AI tech could do narration that otherwise has been a longer process, completed by asking someone internally in the organization or outsourced. "If the designers had that, they could more easily develop e-learning for us without taking a break to record narration," she explains.
The company also is looking at virtual reality down the road. "We haven't pulled the trigger on it yet, but we see it as something that could be useful. There's a lot of great technology and simulation through AI that can help managers," says Milani, noting that it can allow them to practice skills in a realistic but safe setting.
3. Utilizing Technology to Provide Microlearning and Bite-Sized Content 
CLOs are focused on creating short, focused learning experiences that cater to learners' preferences for on-demand and just-in-time training, says Garfinkle.
"Learners today have shorter attention spans and limited time availability. As a result, L&D programs are moving towards microlearning, which involves delivering content in small, bite-sized modules that can be consumed quickly," he says.
Parexel has utilized vendors including the microlearning app Qstream to provide drip learning. Employees receive a weekly email with a question that, if answered incorrectly, brings them to a website to reinforce critical concepts and may rank employee knowledge on a leaderboard. 
"Additionally we have a vendor we work with that allows us to lay software over the top of systems," says Milani. "It's like additional help, so if I don't know how to do something in the system, it'll say, 'What do you need to do? Go here.' It's like someone over your shoulder pointing."
4. Providing Expert-Led Management Training and Peer Groups
At Parexel, newly hired or promoted managers are provided with a series of foundational trainings called "Managing with Heart" — aligned with Parexel's slogan "With Heart." Topics related to basic management, interviewing skills, performance management, and other crucial skills are included in a series of instructor-led and self-paced learnings and resources.
Milani says, "One of the key things we're really driving is how we can support our managers to be the best they can be."
Included in this management series is a core program that Parexel partners with the American Management Association to provide.
For topics like foundational management training, Milani looks internally for managers to lead knowledgeable lunch and learns.
"What we've found is having [technical and subject matter expertise] allows us to be more agile to demand, and these folks know Parexel, so they know more about the target audience versus having to outsource that," Milani says.
Other training sessions are more specific to the company's brand and values, such as the firm's "Onboarding with Heart" course. "We really feel managers are critical in making sure employees are having a positive and engaging experience, and onboarding is the opportunity to set that standard, so we provide training specific to that," Milani says.
But the training doesn't stop there. Parexel provides other opportunities for managers to engage with their peers along their journey and help them solidify learning concepts. For instance, Parexel offers "Manager Circles," which places managers who have been nominated by their leadership into a mentoring group with 10-11 other managers as well as a more senior leader mentor. This group meets monthly to review important topics for managers and how to overcome challenges. (See also: 4 Types of Mentorship Programs — Which Is Right for Your Team?)
"It's another way for them to grow their network, but also share what they might be struggling with and seek advice from their mentor and colleagues," Milani says.