No matter the job, a manager can make or break the experience. However, in the Great Resignation, employees are less likely to wait around for a leadership change.
"Oftentimes, even if heavily compensated, people may leave a company because they had a poor manager, so we spend a lot of time on manager quality," says Felicia Sanders, chief human resource officer of mobility company Michelin. Michelin employs nearly 23,000 people in North America, operating 34 plants in the U.S. and Canada.
Sanders says training for managers is a large part of Michelin's retention strategy. The company, best known for its tires, offers a variety of training courses for managers.
"The new manager training includes a focus on our HR systems and processes, leadership competencies and a thorough overview of what we call people development skills," she says. Michelin also has a Frontline Leader program for "managers of managers." The courses mirror the company's overall leadership model, framed by the acronym I CARE (inspiring, creating trust, being aware, results driven and empowerment).
"People are certainly being recruited out of companies for pay. But…pay is not always the reason we stay [at a job]," says Sanders. "Oftentimes, we stay because of the culture. We stay because of a manager. We stay because of the connections with other people."
During a conversation with Senior Executive Media, Sanders took a deeper dive into her top priorities for recruiting, retention and people management for 2022. Read the edited interview below.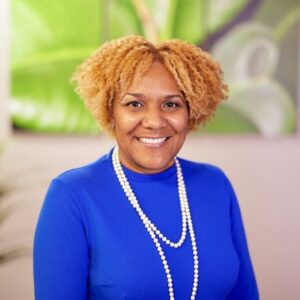 "We stay because of the culture. … We stay because of the connections with other people.

Felicia Sanders, Chief Human Resource Officer of Michelin
Senior Executive Media: How does Michelin train and develop its managers?
Felicia Sanders: Improving our management quality is an ongoing process. We know that employees care about the quality of management, development and growth at work. … Because we believe you don't have to be a manager to be a leader, we also offer leadership courses to employees looking to further their development.
We encourage our managers to learn continuously through podcasts, books and external seminars on leadership and development. It's also common for employees who have been managers for several years to engage in more training.
We've created a website that houses resources like business updates, communication packages and other documents that can be helpful for our managers in their day-to-day. We host monthly Managers' Exchanges with our HR support team to encourage managers to continuously think about how to support their teams and our customers.
Senior Executive Media: Tell me about how your team is approaching DEI.
Felicia Sanders: We've spent a lot of time in the past 18 months, looking at our strategy, the way we approach colleges, the way we approach college recruiting, the way we intentionally go about having diverse pools of candidates… [Michelin posts jobs at community colleges, a variety of universities, historically Black colleges and at high schools for apprenticeship programs.] So we've seen an improvement with regard to the number of diverse applicants in our jobs.
We have, in some cases, begun to look at having interviews being bilingual, as we start to…tap into some of the communities that we have not historically tapped into. So we've really tried to leverage our Hispanic business resource group, and several of our other business resource groups to try to help us tap into those populations that we haven't necessarily [worked with] the way we would like to…
The Senior Executive L&D Think Tank is an invitation-only community for chief learning officers and senior-level L&D leaders at large organizations to share difference-making tactics, trade valuable resources, and seek the counsel of experienced peers in a private, confidential setting. Coming Fall 2023.
Join the Waitlist
Senior Executive Media: What's a piece of advice that has to do with change management that you would like to share?
Felicia Sanders: Listen to your people. And honestly, that's no different than pre-pandemic. A healthy work environment in the HR space…really comes down to a healthy culture where people feel valued, or they feel like their contributions matter. Where they feel like they're being listened to. Where they feel like they can develop and grow.
We conduct town halls… We also changed the format of our town halls [during the pandemic] from a top-down approach to a bottom-up approach. We took questions from all over the company. Executive leadership and frontline experts answered them on camera [in a video call]. They became so popular that we moved town halls from a monthly cadence to a weekly one. We saw in our annual employee engagement survey that a strong majority of employees felt supported, safe and cared for during the pandemic.
But town halls don't reach everyone. Remember, the majority of our folks are in manufacturing. They're on a [manufacturing] line, and they're contributing to the value chain in one specific way. So we have to use communication channels that are very diverse. So that communication can come in the form of town halls. It can come in the form of one-on-one communications with my manager. … We just talked about managers and how important managers and leaders are. The number one way that we get information is from the person we work for. So communication coming from our leaders is very important. … It can also come in the form of the use of video. … A video message coming from one of the senior leaders means a lot.