On May 7, 2021, the Portland Trail Blazers had their first home game at Moda Center with spectators in the stands at 10% capacity. The Blazers were the last major professional sports team in the U.S. to bring fans back in-person.
Moda Center, which can hold nearly 20,000 people, reopened at full capacity in October 2021. In order to keep attendees safe, the franchise's leadership team enacted a new COVID protocol: Fans must have proof of vaccination or be able to present a negative PCR test within 72 hours of game time.
"We really took our cues from the state and the local government… We had to make the decision knowing it wouldn't be popular with some folks," says Dewayne Hankins, president of business operations at the Portland Trail Blazers.
However, Hankins says, the team looked for a policy that would appease 80% of fans. "Ten percent of the fans either don't want the vaccine or can't have the vaccine…and then there's 10% of fans that, no matter how safe you try to make it, are just not gonna be ready to come to a game until [COVID is over]," he says. "So we're hopeful that the decision that we made still is enough to get 80% of our fans to feel comfortable to come to the game."
During an exclusive conversation with Senior Executive Media, Hankins shared how his team is approaching the return to the stadium — from safety protocols to the fan experience to staffing. An edited excerpt from the interview follows.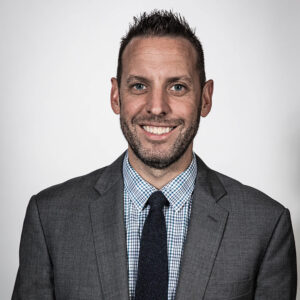 How do you get fans back to the building with these new additional friction points [caused by COVID]? … For some folks, that just makes it too tough for them to come into a game.

Dewayne Hankins, President of Business Operations, Portland Trail Blazers
Senior Executive Media: What is the top priority on your mind as we head into 2022?
Dewayne Hankins: How do you get fans back to the building with these new additional friction points [caused by COVID]? I think we've all spent the last five years prior to COVID really trying to take away all the friction points from coming to games and enjoying sports. And now we've had to add some in because of COVID. So that means in order to come to a game in Portland, you have to either be vaccinated or bring a negative test within 72 hours. … For some folks, that just makes it too tough for them to come into a game. So that part, I think, is one of the bigger challenges that we're trying to get our arms around.
Senior Executive Media: Is there anything that you're working on to ease those friction points?
Dewayne Hankins: If you go back to a couple years ago, we would be lucky to have 10% or 15% of our fan base walk into the arena with our mobile app on their phone. … Download our app — there's adding friction right there. But the idea is that you can utilize our app, not just as a second screen device for watching games, and not just as a way to keep up-to-date on the team, but as a utility for being in the arena. … We can do check-ins for these vaccines, verifications and negative test verifications through the app, that really creates a lot less friction for folks. [Users can currently find this option in the "check-in" section of the app.] They can enter their screenshot of their vaccine card, and they can tell us who they are and then boom, they show us a green checkmark, and they're allowed to get in the building.
Once you're in the door, once you have the app on your phone, now we really have to make sure there's utility in the app above and beyond [checking vaccine status]. We don't want to just be your way to get in the building. We want to be able to have you order food… We want to be able to show you where the nearest bathroom is. We want to be able for you to watch highlights or listen to the game on the radio. We really want it to be a complimentary experience to what's happening in the arena.
Senior Executive DEI Think Tank is a criteria-based membership community for chief diversity officers and senior-level DEI leaders at large organizations to share difference-making tactics, trade valuable resources, and seek the counsel of experienced peers in a private, confidential setting.
Do you qualify?
Senior Executive Media: Now that the arena is back at full capacity, is your team looking to hire people back?
Dewayne Hankins: We had about a 15% staff reduction right after COVID happened and the [2019-2020] season shut down. … Staffing has been challenging. … Part-time staffing is certainly a challenge for the arena. .. We've had to create some perks [to entice part-time staff]. We've had to raise the hourly pay range. We've had to do signing bonuses in some cases to get people to take on roles, like cooks [for the arena]…
Then for full-time staffing, I think working in sports is a blast. I love it. I've done it for 20 years, but it obviously means you're working 40 hours a week, plus events. There's a lot of people in our industry who have looked at that schedule and said, "I'm not sure I want to do that anymore." The sports industry has kind of seen a lot of folks fall out of it, which is a shame because there's some really talented folks that are moving on to other careers… So far, we haven't had to do too many additional perks, at least on the full-time side. We just have so many roles to hire, and so few people to help hire them, that we're not there [fully staffed] yet.
Senior Executive Media: How are you enticing really good people to join your franchise?
Dewayne Hankins: We're still working on that. … Recruiting…[is] a space that's going to be rethought… Not only how do we get people, but how do we retain them? What are the rewards and benefits of working here at the organization? Development really needs to be important in the sports industry… But I certainly know that in the sports industry, there is this thought that so many people want to work in sports that staff may be easily replaceable. Teams are learning that they're not. What are we doing to make sure we're developing folks, keeping them engaged and making sure that they're getting the development that they want in their roles?