The good news as you learn how to become a chief learning officer or work to land a new CLO role: There isn't one educational degree or career path that prepares someone best to be a CLO. "Our clients might ask us to look for experience in an evolving organization, or in a company that has grown or pivoted, when we undertake these [L&D] leadership searches," says Tory Clarke, founding partner of Bridge Partners, an executive search firm based in New York.
Consultant Yuri Kruman, CEO and interim chief human resources officer and chief learning officer at HR, Talent & Systems Consulting in Brooklyn, agrees there isn't one ideal background for a CLO, but thinks teachers, with their curriculum design skills, as well as career changers in general, with their varied experiences, bring a lot of strengths to CLO roles.
"I can state my bias upfront, being someone who has changed careers five times: Having a wide range of experiences helps me relate to anybody," he says. "I can also structure a curriculum in an unorthodox way so people can better absorb the material based on who they are, as well as their function and department, since I myself may have worked in that function or department."
Nettie Nitzberg, chief learning and leadership officer at Saterman Connect, a consulting firm based in New York, prefers to see skills — rather than job titles — stand out on candidates' resumes. "Through a skills-resume, I have a better understanding of the skills, competencies, and knowledge they are bringing with them and how they have used these skills," she says. "This helps during the interview process to dig in regarding their depth of knowledge, how they used these skills, and their understanding of them."
CLO candidates who don't have prior L&D experience have little choice but to craft a resume focused on transferable skills, she adds.
Senior Executive L&D spoke with several executive recruiters specializing in searches for L&D leadership roles to identify the specific skills, traits, and experience you'll need to demonstrate to stand out in your next job search as an L&D executive:
1. Instructional Design Certification and Proven Instructional Design Skills
Top-notch instructional design skills are key to supporting growing organizations as a chief learning officer. Learning & development platforms must captivate and hold the attention of the trainees using them, and chief learning officers should be able to create (or source and customize) fresh materials, highly specific to what employees need.
"You definitely need to understand how to create custom learning paths," says Kruman, adding that these learning paths need to connect with performance management and career paths to be relevant for each trainee. "And the CLO needs to know how to implement learning software so it drives customization at different stages of a person's career, as well as in different functions and roles," he says.
On your resume and in conversations with recruiters and hiring managers, cite specific initiatives in prior roles that showcase your ability to develop engaging learning content that meets specific objectives.
The Senior Executive L&D Think Tank is an invitation- only community for chief learning officers and senior-level L&D leaders at large organizations to share difference-making tactics, trade valuable resources, and seek the counsel of experienced peers in a private, confidential setting.
Do you qualify?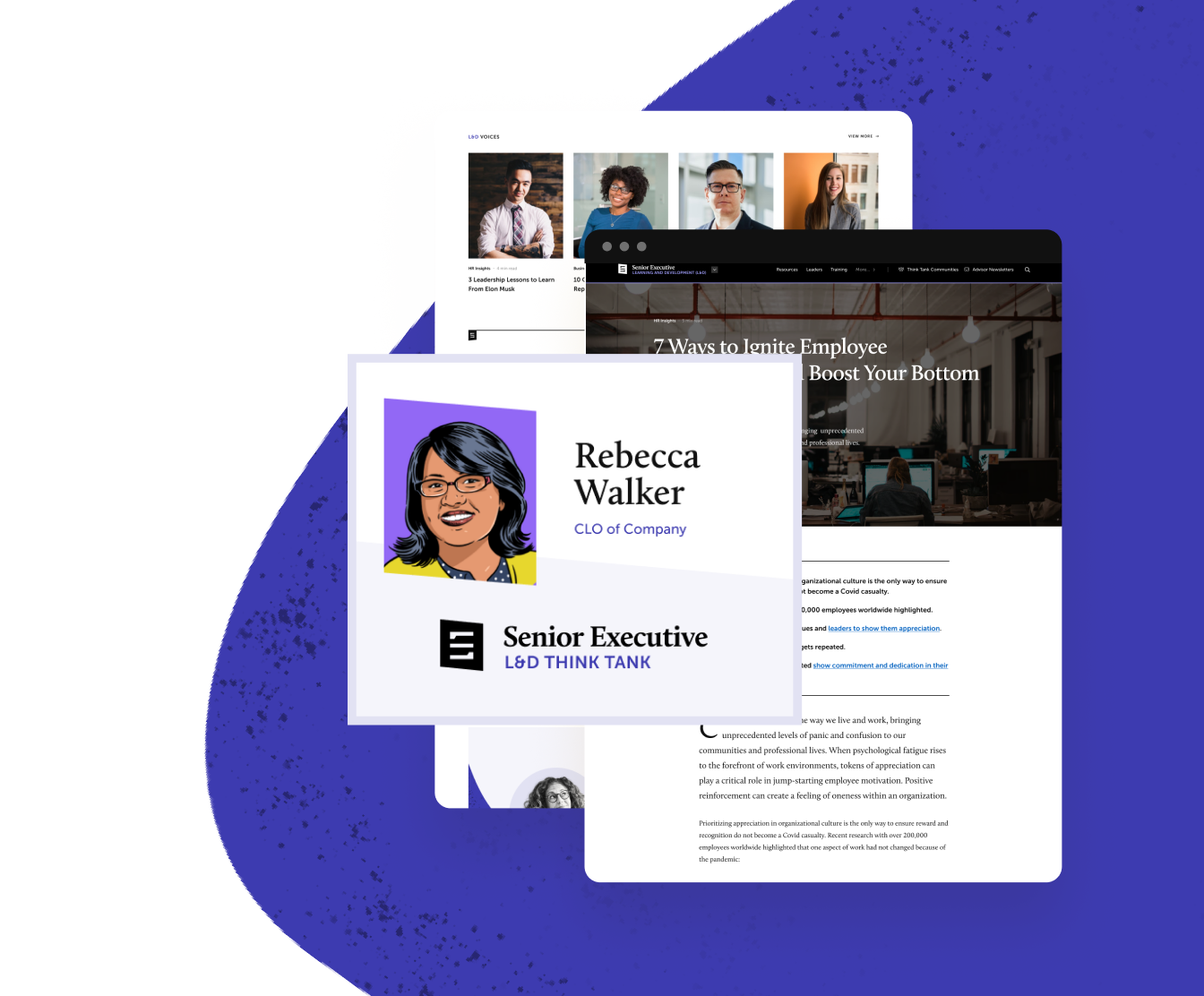 2. The Ability to Be Strategic, but Also Tactical
CLOs must understand the business imperative for their role — and develop and carry out a strategy that achieves those goals. For some L&D leaders, their raison d'etre "could be a change in the business itself," explains Clarke. "For others, it could be due to a change in the world, for instance, with the advent of AI technology. And for some, it may be a focus on retention and improving development and career pathways within the organization. No matter the reasons, it's important the CLO understand them to be successful."
But knowing the big picture and being able to strategize isn't everything. Nitzberg says the ability to be tactical is critical for CLOs, who must oversee vast operations of L&D specialists, stakeholders, technology, and initiatives.
3. Working Knowledge of the Latest Learning Technology
Technology is constantly changing, and for L&D leaders it is critical to be up-to-speed on the newest learning platforms, learning management systems, AI, and other technology that drives L&D goals forward, says Nitzberg.
A good point, Kruman advises, to make in your next interview for a CLO role: The most successful implementations of learning platforms are driven by learner assessment at different levels, and you as a CLO candidate should demonstrate a passion for and experience with user-centric product assessments.
When she was brought into a rapidly growing start-up to build an L&D operation from the ground up, Nitzberg researched online learning programs and selected LinkedIn Learning. She piloted the program for six weeks with 40 users at all levels. "Month one, we ran workshops for all users, ran contests to get users on the platform and comfortable using it," she says. Next, Nitzberg "incorporated [the platform] into technical training and other learnings across the organization. Within the first year, we had the highest user rate within our industry."
4. A Deep Professional Network of L&D Recruiters, Staffing Firms, Consultants, and Vendors
L&D leaders are responsible for building the right team of new employees, with expertise in specific areas such as sales, customer service, or engineering, and proficiency in popular learning platforms such as LinkedIn Learning and Udemy, for example, says Nitzberg. You might also be tasked with finding world-class freelancers or temp workers for short-term L&D assignments.
See Senior Executive L&D's guide to job roles across L&D teams, plus our list of interview questions every L&D leader should be asking.
5. Excellent Skills as Both a Presenter and a Facilitator
Whether leading teams in a virtual, live, or hybrid environment, CLOs (and the L&D teams they lead) must have the ability to compel an audience and teach them what they need to know.
Pro tip: Be prepared to conduct a sample learning session (perhaps as long as 20 minutes or more) as part of your CLO interview process, something Nitzberg herself once was challenged to do when interviewing for a CLO role. "This was a great way to demonstrate my instructional design skills, facilitation and presentation skills, communication and debriefing skills, and use of technology," she says.