As of February 2021, nearly half of all S&P 500 companies have chief diversity officers, according to Russell Reynolds. However, law firm Miller Canfield has elevated D&I to a new level. The organization's chief diversity officer Michelle Crockett holds another important title: deputy CEO.
This deputy title reflects her position in the firm's organizational chart. Instead of reporting to a head of human resources or chief people officer, she reports directly to the CEO. Crockett describes her role as overseeing "all of the human capital areas of the firm," including hiring, professional development, mentoring and diversity initiatives.
"During 2020, with all of the racial and social unrest…there was a true, deliberate move, to elevate the position," Crockett explains. "By bringing that position into the C-suite…I was then able to sit in with the managing directors, and the CEO…to be a part of strategic decisions."
With over 400 employees and 18 global offices, Detroit-based Miller Canfield is a Mansfield certified organization. A classification specific to law firms, Mansfield organizations consider candidate pools that are at least 30% from underrepresented groups. According to Diversity Lab, which grants the certification, the Mansfield Rule intends to boost the representation of diverse lawyers in law firm leadership by expanding the pool of candidates considered for these opportunities. That includes a focus on women, attorneys of color, lawyers with disabilities and members of the LGBTQ+ community.
Prior to her title change in 2020, Crockett was a diversity and development principal at the organization. In this role, she worked on D&I training, as well as hiring efforts for diverse talent.
Today, Crockett drafts and implements the firm's annual diversity, equity and inclusion strategic plan. "It's like my wish list," she explains. "What would I like the firm to accomplish during a given year? Those goals…are directly tied to things like professional development and advancement of people of color and women within the firm."
During a conversation with Senior Executive Media, Crockett discussed what's on her wishlist to move D&I forward in 2022. Read the edited interview below.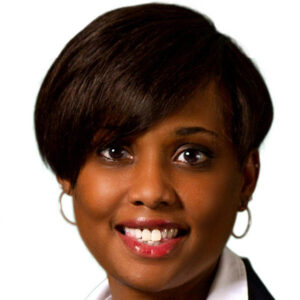 By bringing [the chief diversity officer] position into the C-suite…I was then able to sit in with the managing directors, and the CEO…to be a part of strategic decisions.

Michelle Crockett, Chief Diversity Officer, Miller Canfield
Senior Executive Media: What's on your 2022 wish list?
Michelle Crockett: I really want to expand our pipeline initiatives. That's number one. Number two…I really want to make sure that we have some training that's focused on disability and the LGBTQ+ community. … We've got to start raising awareness, making sure that people really understand the population that we are trying to invite into the firm.
I would say the other thing is establishing affinity groups for those two particular demographic groups as well.
Senior Executive Media: Tell us a little bit about what affinity groups look like at your firm.
Michelle Crockett: The first affinity group that was formed at Miller Canfield was that African American attorneys affinity group. … We have started a Hispanic attorney affinity group in the last couple of years as well.
It's voluntary, and typically leaders of the group are organically deemed as such. And they establish the group's cadence in which they meet. So it's not dictated by firm leadership.
Those groups also are able to bring forward recommendations, in terms of things that they would like to see the firm try to accomplish.
Senior Executive DEI Think Tank is a criteria-based membership community for chief diversity officers and senior-level DEI leaders at large organizations to share difference-making tactics, trade valuable resources, and seek the counsel of experienced peers in a private, confidential setting.
Do you qualify?
Senior Executive Media: Do you have an example of an initiative at the firm that came from an affinity group suggestion?
Michelle Crockett: Years ago, the Black attorneys affinity group came up with the idea of having a director of diversity. Len Givens was the first person to assume the role.
Also, the Women of Miller Canfield [affinity group], because of all the work we did with the Diversity Lab Hackathon, formed four active working groups to address hiring, leadership and advancement, compensation and business development issues for women attorneys. Their role was to figure out what issues need to be addressed to make the firm more equitable for everyone regardless of gender, race, disability status, LGBTQ status. That work ultimately gave way to the firm's annual DEI strategic plan.
An example of a major change resulting from this work is the updated parental leave policy, which is among the most extensive and gender-neutral in the legal profession.
Senior Executive: When it comes to these initiatives, what are the things that you're measuring?
Michelle Crockett: [One thing] on my wish list is to just increase the representation of people of color and women in leadership. So when it comes to measuring, that's low hanging fruit…because we can essentially count.
With respect to professional development…one thing that I measure is how many pitches, client pitches, attorneys, people of color, and women actually [move forward]. And…if we win business, are the people of color and the women sharing in origination credit?
I also work with our mentoring committee. We have a way that we request…that our mentors track their time when they meet with their mentees. So I look at those metrics as well, to see "are folks getting together for focus meetings on a regular basis?"
Senior Executive: If you were talking to someone else who just took a chief diversity officer position, what advice would you give them?
Michelle Crockett: One size doesn't fit all. You cannot freely adapt…different initiatives from other organizations and try to just insert them within your particular organization, because every workplace is different. You have to come up with things that are going to work within your specific culture.
I also spend a lot of time trying to figure out ways to ensure that the momentum that we all felt in 2020, with respect to racial equity, continues… As we move forward in 2022, I don't want 2020 to be a blip.