Associate, manager, director, vice president — those are typically the rungs employees climb when scaling the corporate ladder. At Paymerang, CEO Nasser Chanda encourages his employees to knock the ladder over and explore opportunities across departments.
"I don't want people to just think linearly about 'I need to go from manager to director,'" he says. "I want them to think, 'How do I broaden my horizons, broaden my mind and do things that I love to do?'"
Based in Richmond, Va., Paymerang specializes in invoice and payment automation. Of the company's 200 employees, 103 were hired last year, and 50 received promotions in 2021. The team currently operates under a hybrid work model.
Chanda says the company helps employees with career development — both unlocking opportunities within their departments of the company and finding ways to break into new areas where their passions lie. Chanda says the company has seen entry-level operations employees move into marketing, and people around the office pivoting into product or finance.
The secret to lateral training lies in Paymerang's people development philosophy. "That allows us to think of it [development] as a very necessary and deliberate part of the fabric of Paymerang — and not just something that happens annually or on the side," Chanda says.
The company has four employees dedicated to building learning and development programs. Development classes are held at the office — both run by external experts and employees within the company. For example, the organization holds presentations on personal financial wellness, Microsoft Excel training and industry related education classes, including insights on Automated Clearing House (ACH), the primary system used for electronic fund transfers. Chanda says Paymerang also offers tuition reimbursement.
During a conversation with Senior Executive Media, Chanda shared more about the company's professional development opportunities and how it attracts talents to keep up with its explosive growth. Read an edited excerpt from our interview below.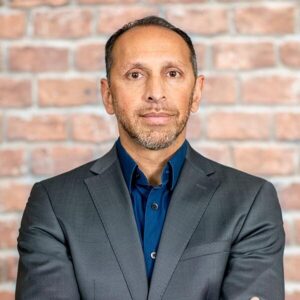 How do I broaden my horizons, broaden my mind and do things that I love to do?

Nasser Chanda, CEO of Paymerang
Senior Executive Media: You have grown a lot, and there's so much competition for talent right now. Have you had to change your hiring process?
Nasser Chanda: We have a great program for our talent acquisition. Last year, we hired 103 people. We had 4,400 applicants for those roles. Every single one of those folks who joined us, we want them to have an incredible employee experience — from the interview process through the onboarding, the training and allowing them to grow in the organization. If you do that really, really well, you can hit your growth targets.
You have to get creative sometimes with the market like this… The market is unique right now. In certain areas, we're willing to be creative, but we're not going to compromise on our values.
For example, we were bringing in folks at a more junior level in certain departments so they could learn and grow with us and then become senior with us. And we were fine to do that and build a training department for that.
The Senior Executive L&D Think Tank is an invitation-only community for chief learning officers and senior-level L&D leaders at large organizations to share difference-making tactics, trade valuable resources, and seek the counsel of experienced peers in a private, confidential setting. Coming Fall 2023.
Join the Waitlist
Senior Executive Media: What other creative solutions give you a competitive edge in this hiring environment?
Nasser Chanda: Culture is big for us. We want you to come here and feel like this is a place that you love the people you work with, you love the mission of the company. And we want you to feel connected to that.
We also have a program where every single person gets a little bit of a feeling of ownership in the company. It's a unique program… It's basically a bonus plan that's tied to certain outcomes in the company. For example, if there's an investment or certain things that happen with the company that lift our valuation [as a private entity] and lift the outcome for our investors, we share some of that outcome with our people. So it's a cash bonus plan related to growing the value of our business.
The third thing is benefits. We offer benefits that are very strong in the market. So we pay 100% of health care for our employees. We have a 6% 401(k) contribution. It's in the bag without them having to contribute anything. And it's vested on day one.
Senior Executive Media: When it comes to employee satisfaction, what are you measuring?
Nasser Chanda: We use a tool called Officevibe. Employees either receive a five-question survey weekly or a 10-question survey bi-weekly based on their preferences. The surveys take a couple minutes to complete. Our Employee Engagement Score was 8.2 out of 10 for 2021.
Senior Executive Media: Tell us how your team approaches onboarding.
Nasser Chanda: When they walk in the door, there's a clear agenda for the next two weeks. They have time slots filled in and specific things that they're going to learn. … The next thing we do is have a…coach to work with them…to learn with that person. Once that happens, they're then part of a team, and the team has a lead. The team is empowered to provide them [the new hire] more and more freedom and growth [over time]. What we want to do is have people teaching others… So we call that the invisible hand that helps you grow. The temptation as a leader is to always jump in and just do the work yourself.
Some of these folks who work with us, we could put them in front of clients within the first few weeks, and they would be so up to speed on our culture and our business. They can then interact professionally with clients. What that does is it gets them in the game fast… When that happens, within six months, you have a very proficient employee…