At 6am each morning, Jim Marcum starts his day by reading one-star reviews from customers who shopped at David's Bridal.
"[Brides are] telling us everyday what's working and what is not working," says Marcum, CEO of the wedding retailer. "There's a reason that the customer walked out of there upset."
According to Marcum, one-star reviews have led to more flexible return policies and complementary aspects of the shopping experience. For example, garment bags for dresses — which once were bought separately — are now included with purchase.
In 2018, the year before Marcum took the reins of the organization, David's Bridal had filed for Chapter 11 bankruptcy and had begun the process of restructuring to reduce debt. Even with the uncertain outlook, Marcum says, the company's position as a well-known brand drew him to the role.
"[When I joined, the company] was seeing at the time between 80% and 90% of all brides coming through the funnel, [interacting with David's Bridal in some way]… They were converting roughly one out of four dresses," Marcum says. But, he notes, the company "had not made a lot of the digital pivots and transformations that I think today's consumer expects from a service level."
Seeing an opportunity to leverage digital transformation, Marcum left Apollo Global Management Inc. — one of the world's largest private equity firms — and returned to retail, an industry he had worked in for 35 years.
Today, David's Bridal has nearly 300 locations in the U.S., Canada, U.K. and franchise locations in Mexico. According to the company website, out of all wedding dresses purchased in the U.S., one in three is sold through the retailer.
During the pandemic, the team pivoted to virtual styling sessions and an AI-driven program where brides can purchase dresses via text. The company has also ventured into augmented reality. Brides can pull up select dresses on their phones and project a 360-degree visual of the dress in any space, from their living rooms to their venues.
In an exclusive conversation with Senior Executive Media, Marcum shared advice for other executives and revealed how his team stays connected to customers. Here's an edited excerpt from our interview.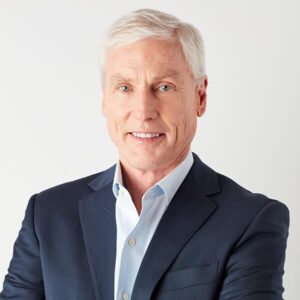 "[Brides are] telling us everyday what's working and what is not working [in one star reviews]… There's a reason that the customer walked out of there upset."

Jim Marcum, CEO, David's Bridal
Senior Executive Media: How do you keep connected with the people who are working directly with the brides?
Jim Marcum: One of the first things I did in coming on board was make sure that we were scraping every customer comment anywhere in any channel that was being made. And we call it "living in the ones." And it's been a massive change in mindset to the organization. … And since we've been doing that, we've made a massive change in how we think about the customer. She's in the center of everything we do.
We're getting between 15,000 and 20,000 reviews a month. … Reviews are sent to our leaders [daily] via Birdeye, a customer reviews management platform. The ones I…and the senior leadership read every day, are the one and two stars.
We're most concerned about…the behaviors that would cause [a negative] comment to happen. We try to get down to root cause – was the store properly staffed that day? Were they properly trained? We then work with our field leadership team on coaching and correcting the behavior. … Oftentimes, a lot of organizations will deflect, right? … We're looking for…a core set of problems that are truly trainable and correctable.
Two years ago, when we started this process, we would run NPS [Net Promoter Scores] in the high 40s, low 50s. … Today, we're running NPS scores in the low to mid 70s, which is…world class, especially in retail…
Senior Executive DEI Think Tank is a criteria-based membership community for chief diversity officers and senior-level DEI leaders at large organizations to share difference-making tactics, trade valuable resources, and seek the counsel of experienced peers in a private, confidential setting.
Do you qualify?
Senior Executive Media: What's a challenge that you're working on heading into 2022?
Jim Marcum: Work-life balance. … When we started operating 100% remote, and we started operating virtually by Zoom, it's very easy to get pulled into that trap where suddenly it's seven days a week and you cannot disconnect.
We have a 95% female workforce — some of the brightest, most capable, competent people that I've ever met in my career — and they're struggling. They're trying to balance that personal life. They're trying to balance children running through the house, while we're on Zoom calls… When it was also home learning, homeschooling, because everything was remote.
In today's world, the way we're operating is virtually remote and or hybrid. It's so critical [to build balance]. … To address burnout, we've added everything from additional wellness PTO days for employees to implementing hybrid work, including increased flexibility between in-office and remote work. We also try to keep meetings to core business hours to give our employees more flexibility to manage their personal and professional schedules.
Senior Executive Media: What's something that you've learned during your first year as a CEO that you wish you had known when you started?
Jim Marcum: It's not just me sitting in the room; it's embracing the entire leadership team of the company. We're challenging each other on almost like a whiteboard-type methodology. … We're sitting down and saying, "What could we be? What is the opportunity?" … With that comes a tremendous amount of buy-in.
It's the realization that when you can empower teams to think differently, and then support them and embrace that…it's amazing how infectious it really is.