At the start of the COVID 19 pandemic, airports became ghost towns, as companies cancelled business trips and governments banned international travel. The travel sector has yet to fully rebound, as new variants threaten speed of recovery.
Paul English, co-founder of the travel-management turned fintech platform Lola.com, saw the writing on the wall.
"We made a rapid pivot [in March 2020]… We basically said, 'The numbers look really bad here… Let's build other products that we can sell to businesses, even if they're not traveling,'" English says. "We were taking control of our own destiny. We were going to build a broader product line."
In order to stay afloat, Lola.com transitioned from an app that helped book corporate travel to a platform to manage all employee spend. The pivot into fintech paid off in October 2021, when Lola.com was acquired by banking giant Capital One. After the acquisition, Lola.com ended its other corporate contracts and relocated its 57 person team to a new office in Cambridge, Mass. — co-located with 250 other Capital One workers.
Now, English and his team have access to Capital One's user-base, as they develop new fintech offerings that could reach hundreds of thousands of end users.
English is the CTO and co-founder of Lola.com. English previously founded Kayak, which he sold to Priceline.com for $1.8 billion in 2012.
During an exclusive conversation, English walked Senior Executive Media through the Capital One acquisition, and shared tips for keeping the entrepreneurial mind set at a big company. See an edited excerpt from our interview below.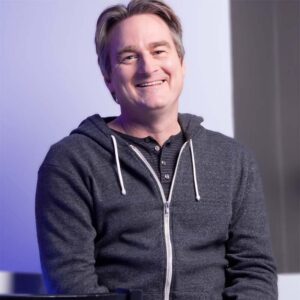 "I thought about my companies as team first, customer second, profit third."

Paul English, Co-founder of Lola.com
Senior Executive Media: Tell me about some of the challenges that teams typically face when a startup is absorbed into that mothership, big-company environment.
Paul English: I've done it a couple of times before. We sold Kayak to Priceline. And I sold a small ecommerce company I had [founded] to Intuit.
The skills that make an entrepreneur — take risks, move fast, ask forgiveness, not permission. Those skills don't always translate to a large company that's protecting the needs of millions of customers. So you need to move in a more methodical way. And the reality is, some startup people can make that transition just fine. And they like the challenge of working at scale and working in a new environment and a new culture. And some startup people don't make that transition. They basically say, "I just want to do a startup again."
Senior Executive Media: Often, larger companies want to acquire, not just the software and the people, but the culture as well. Tell me a little bit about that.
Paul English: Capital One, they've been very kind to the Lola team. And they've told us repeatedly, at least once or twice a week, "If you see something in Capital One that looks slow to consensus, don't go along with it. Raise it." And so they want us as scrappy entrepreneurs, to figure out how to make our dents into Capital One, and…change them to be a little bit entrepreneurial.
[For example,] I had a staff meeting this morning with a bunch of the senior executives. And they asked me to give a presentation on how to run more effective meetings. Because Capital One, as a larger company, they have a very different meeting culture than a startup.
I started with making sure everything has a very clear agenda with goals. I'm a big fan of using Google documents to list an agenda for meetings and outcomes, and then editing that document live during the meeting. … And not having too many people in meetings. If I'm having a lot of meetings with more than 10 people, it probably means you're too consensus oriented.
Senior Executive DEI Think Tank is a criteria-based membership community for chief diversity officers and senior-level DEI leaders at large organizations to share difference-making tactics, trade valuable resources, and seek the counsel of experienced peers in a private, confidential setting.
Do you qualify?
Senior Executive Media: What's something that you've learned as a serial entrepreneur that you wished other leaders knew?
Paul English: When you are making a really difficult decision in the company, and you're not sure which way to go, go the way that's really best for the people. Try to be ethical and caring for your team. … With each of my companies — this might sound backwards — but I thought about my companies as team first, customer second, profit third.
[For example,] When I sold my first company Boston Light to Intuit, I canceled half of my stock to give employees more. That's team first. … When we renamed Travel Search Company to Kayak over the board's objections, that was team first, since the team wanted the name Kayak.
I'm going to take care of my team… Then, having that team focus on customers, the growth will happen. The revenue will happen. The profit will happen. And so when I face tough decisions in my companies, the first thing I do is huddle the team and try to figure out, "What's really the outcome that's going to get the team the most excited?" … [Then,] making sure that change is something that people have signed up for. And I don't mean consensus-oriented…but just be informed about which change will get people excited.