In the last two years, many companies pivoted away from core offerings to meet shifting customer needs. That includes TravelBank, a travel-management-turned-fintech platform.
Founded in 2015, TravelBank initially focused on booking and expense reporting for business travel. But as companies canceled their travel plans during the pandemic, TravelBank switched into survival mode – reducing staff, cutting salaries and re-connecting with clients, says CEO Duke Chung.
"We spoke to our customers, which were CFOs," Chung says. "We realized that the area of our business that would really benefit the most was our expense business."
With more work-from-home employees, companies needed new ways to bring in-office benefits — including free lunches, fitness offerings and professional development — to a remote workforce. "Now everybody would become an expense user," he explains. "Democratizing all that down for the employees…[requires] a way to expense it all."
Chung says he tasked 90% of TravelBank's product engineers to build a robust expense platform — moving the company away from travel and into fintech.
The dramatic pivot paid off in November 2021 when U.S. Bancorp, the parent company for Fortune 500 U.S. Bank, acquired the business.
(Does this story sound familiar? Lola.com CEO Paul English shared a similar pandemic pivot from the travel sector to fintech in a recent Senior Executive Media interview.)
During an exclusive interview with Senior Executive Media, Duke Chung shared learnings from the pandemic — including the challenges of laying off employees and rewarding the remaining team after a successful acquisition.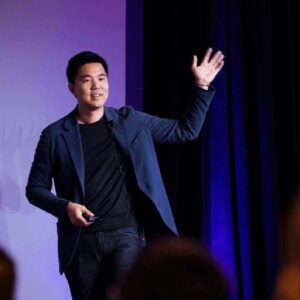 When we got acquired by U.S. Bank…we paid back every single employee the lost salaries.

Duke Chung, CEO of TravelBank
Senior Executive Media: When you see the industry you're working in really struggling, how do you lead through that?
Duke Chung: We had to scale back a lot of the teams, that alone is quite difficult. In my first business before TravelBank, I had to do that in the 2008 recession. … We had to reduce our salaries too. … You're saying, "I'm going to stick through this company, to see it through. I'm going to have to do this pivot, I have to do twice as much work with half the staff. And you also want me to reduce my salary down for these months." … Myself, my co-founders, our management team, everyone did the same thing. We're on the same page. There were no exceptions.
When we got acquired by U.S. Bank…we paid back every single employee the lost salaries, and I also paid back everyone's lost salary merit increases to what they would have increased because they did an amazing job… [During the pandemic] we said, "We're going to give you performance reviews, but we don't have any money to pay you for your merit increases." So people understood they understood the situation, and they trusted us. When we got here to the acquisition, we carved out some proceeds and used that money to pay everyone back [who stayed at the company].
[Editor's note: According to the company, TravelBank has rehired up to 71% of its employees when compared to pre-pandemic staffing levels. This number is expected to increase to over 100% by the end of 2022.]
Senior Executive DEI Think Tank is a criteria-based membership community for chief diversity officers and senior-level DEI leaders at large organizations to share difference-making tactics, trade valuable resources, and seek the counsel of experienced peers in a private, confidential setting.
Do you qualify?
Senior Executive Media: Tell us a little bit more about staffing reductions on your team during the pandemic. How do you do that empathetically?
Duke Chung: We had to let a good amount of people go because we had hired so much leading up to the beginning of the pandemic in anticipation of growth. … What you saw was, in the first three months, some people left once they saw the situation change… Some people are…able to handle this kind of fluctuation. But some people were getting married. Some people are having kids. So everyone's in a sort of a different life stage, and they have to assess their risk themselves from their own situation.
Once the pivot started to work. It was interesting, nobody left during that time. Because we were very transparent. We were all doing it on Zoom remotely, and we were showing weekly numbers. New customers we're signing on — these are new paying customers. And pretty soon we had made back all of our revenue, all the lost travel revenue, but not with [a travel product]. All of this we communicated with our teams. … Part of the key was we were over-transparent on our numbers. Typically, we would have a town hall every month and share numbers. But we were doing this on a weekly basis.
Senior Executive Media: When you get acquired, what's the next thing you as the CEO have to do once the deal has been finalized?
Duke Chung: I think the first thing that one thinks about is their team: Who's going to go over? How many people are going to go over? Is everyone going to be able to go over and continue to enjoy this journey? The first thing I was thinking about with Reid [Williams], my co-founder, was, "Okay, this makes a lot of sense for us to do, but are our employees going to be taken care of through this process?"
I spent more time…to make sure that every single TravelBank team member…had optionality of what they want to do with U.S. Bank. So everybody's getting employment offers. Everyone's being hired on — even our back office. And then we structured additional retention agreements with everybody. We spent extra time negotiating a financial package for every single one of our employees to make sure that everybody was happy. And that's because they trusted us – especially in the last 24 months.