Flexibility. That's the core tenet of the future of work. But what will that really look like at your firm?
Senior Executive Media has discovered a great model to follow in biopharmaceutical company Sage Therapeutics. In 2021, an employee survey found that only about 5% of the company's workers wanted to return to the office four or more days a week. The majority (59%) wanted to be in the office "sporadically," says chief people and experience officer Erin Lanciani.
"They may be remote 90% of the time. They may come in one day a week," Lanciani explains. "They may skip one week and come in the next."
As a company that develops novel therapies for brain disorders, Lanciani says her team prioritizes "brain health" for employees. "We did a series of focus groups, interviews, [and] external research to develop what we call SageFlex," Lanciani says. "This is not a hybrid model. … It's an employee-driven model that says the office is where you are."
SageFlex, which includes a renovation of physical office spaces and increased flexibility for remote workers, was first introduced to employees in April 2021. The program will officially begin company-wide at the end of January 2022. Sage Therapeutics has 450 employees with physical offices in Cambridge, Mass. and Raleigh, N.C.
The dedication to a flexible model has already yielded benefits for the company.
"We can recruit and hire all over the country, all over the world, if we want. We've been able to increase our diversity within the organization, which has been a very much added value for us," says Lanciani, who cites a 20% increase in diverse employees since the implementation of flexible hiring practices.
In an exclusive interview with Senior Executive Media, Lanciani shares other wellness programs offered by Sage Therapeutics and how they're utilized by employees. See the edited conversation below.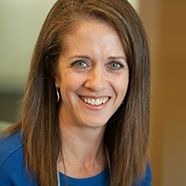 The office is a magnet and not a mandate…so we want to make the office as attractive as possible.

Erin Lanciani, Chief People and Experience Officer at Sage Therapeutics
Senior Executive Media: When it comes to SageFlex, what does that office actually look like for employees who choose to come in?
Erin Lanciani: One of our core principles is the office is a magnet and not a mandate. So we still want to have an office environment because building culture, collaborating, bringing people together is still really important to us. So we want to make the office as attractive as possible…
We have said we will bring the organization together three times a year. We're able to decrease our space [square footage] because of that. … We've also designed our workspace into different work zones… If they need heads-down space, we have a library space. If they really want to just connect and collaborate, we have active collaboration spaces. We have cafe-type spaces. Then, we have a wellness row, which [has] treadmill desks and massage chairs, and ways to keep people resilient and moving forward as well.
Senior Executive DEI Think Tank is a criteria-based membership community for chief diversity officers and senior-level DEI leaders at large organizations to share difference-making tactics, trade valuable resources, and seek the counsel of experienced peers in a private, confidential setting.
Do you qualify?
Senior Executive Media: Tell us a little bit about your wellness strategy for employees.
Erin Lanciani: Sage is a brain health company. We're making medicines that could help people that suffer with brain health disorders. So certainly wellness and taking care of people is first and foremost. We feel like if we can't do it for our employees, we can't do it for our patients and their families, which is incredibly important to us.
We have a benefits package that is very much designed with wellness in mind. … We have discretionary time off [unlimited PTO]. You should have the flexibility to take the time off that you need, when you need it — to achieve balance in your life and deliver exceptional results when you are on the job. All U.S. employees have discretionary time off with manager approval.
We have two mental health days a year. We have 12[p.m.] to 1[p.m.] lunch hours, so that everyone gets that break in the middle of the day. We do what we call Friday sizzlers. So at the end of the week, we close around noon on Friday, and people have a little bit of downtime to start their weekend or organize the end of their week or go on a vacation for the weekend. We also have things like the Calm app. We have a concierge [personal assistant] service.
We have a very strong parental benefit leave. … We send six months of diapers home for the new baby. We send home a TaskRabbit gift card so that they can…[get] the crib put together or get something done within the nursery. So we look at events around people's lives like that as well.
We have an online coaching program…with a company called BetterUp, and they've done a really terrific job of really making coaching more available for everyone across the organization. What we're finding is it's allowing people to really step back, look at who they are, what they want to be and engage in work in a different way. And so that is really helping their well-being and their mindset going forward.
Senior Executive Media: For these benefits, how are you tracking utilization?
Erin Lanciani: We are constantly doing health checks within the company. We use a survey platform called Glint, which has been a great partner with us. … We have that data on an ongoing basis to just ensure people are doing well. [Editor's note: Sage Therapeutics also tracks the percentage of employees using wellness services. For example, company data show 46% of employees used Calm, a mental health app, in 2020. And 62% of employees used Circle Concierge, a personal assistant and concierge service.]