Gone are the days of paper pay stubs and Excel expense sheets. To help HR and finance leaders keep pace with technology, Paycor evolved from a payroll processing software for Windows desktop into a software-as-a-service (SaaS)-based solution to modernize every aspect of people management. In order to ensure customers get the most from its platform, Paycor uses a learning management system (LMS) designed for external training, i.e. for customers rather than employees. In this way, Paycor has moved from a 1:1 manual customer training effort to a 1:many self-service platform that can accommodate the company's growth well into the future.
"With our high growth goals, and the desire to create a more sustainable and scalable training model, we needed a platform to host our training content," says Ashley Kaster, Paycor's associate manager of learning and development. We needed a way to transform our traditional classroom training into a virtual model."
As a key player in managing the Paycor Training Hub, Kaster creates new training content, develops courses, and ensures that live training is delivered to customers up to 15 times per week. Her team is also currently in the midst of overhauling the certification program so more customers can share that they're "Paycor certified."
Certified Paycor customers have a revenue retention rate that is 15% higher than non-certified (but trained) customers and 25% higher than untrained customers. These customers are purchasing additional Paycor products and organically growing the company's revenue. Knowing these results, Ashley's team was effectively able to grow their certification offering by 200%.
Senior Executive L&D spoke with Kaster about how Paycor's training platform is set up, what types of training her team has found to be most effective for customers, and how customer training has had a direct impact on product adoption and retention. Read on for an edited excerpt from that discussion.
Senior Executive Media: Can you describe Paycor's training platform? What types of courses are available and for whom? Who is your target user(s)?
Ashley Kaster: Paycor's training platform in its current state is designed around a virtual training offering, complemented by a collection of over 100 additional self-paced courses for our suite of HCM products. Our learning model is targeted, a 'train the trainer' model, which is designed for the Paycor system administrator for our products at our various customer companies, from health care to manufacturing to retail and technology, and yes, education too. Our learning is transitioning from a technical approach to a storytelling approach, using a conversational narrative to guide actions, with the goal of helping our customers become better users of Paycor's products, ultimately supporting value realization for Paycor.
We launched the Paycor Training Hub in early 2021 moving to a virtual-first model, and have since continued offering virtual instructor-led training, coupled with e-learning, recorded webinars, and tutorial videos all hosted through the platform. There's just no other way to do it unless you want to build it yourself — now that takes a lot of work!
Senior Executive Media: How were you handling customer training and onboarding prior to the Paycor Training Hub? Can you share some of the challenges with that?
Ashley Kaster: Prior to adopting a client-facing learning platform, our team was delivering training primarily in person, live with an instructor at Paycor headquarters [in Cincinnati, Ohio] and other clients' locations. In some ways, this was a very successful model in our industry because it provided hands-on, white glove training experiences for our customers.
But it was also very taxing on our learning coordinators. From both a spend and capacity standpoint, this model of learning was not scalable or sustainable, not only for our growing company but in a rapidly changing world. Since the majority of our training was delivered on site, many customers were not able to attend, especially once the pandemic started, leaving our implementation teams to fill the void, spending hours on the phone with customers.
In addition to capacity challenges, registration and attendance tracking was disparate and manual. Our customer-facing associates had no visibility into their customers' training activity, and there was no single place to send customers to register for training.
The Senior Executive L&D Think Tank is an invitation- only community for chief learning officers and senior-level L&D leaders at large organizations to share difference-making tactics, trade valuable resources, and seek the counsel of experienced peers in a private, confidential setting.
Do you qualify?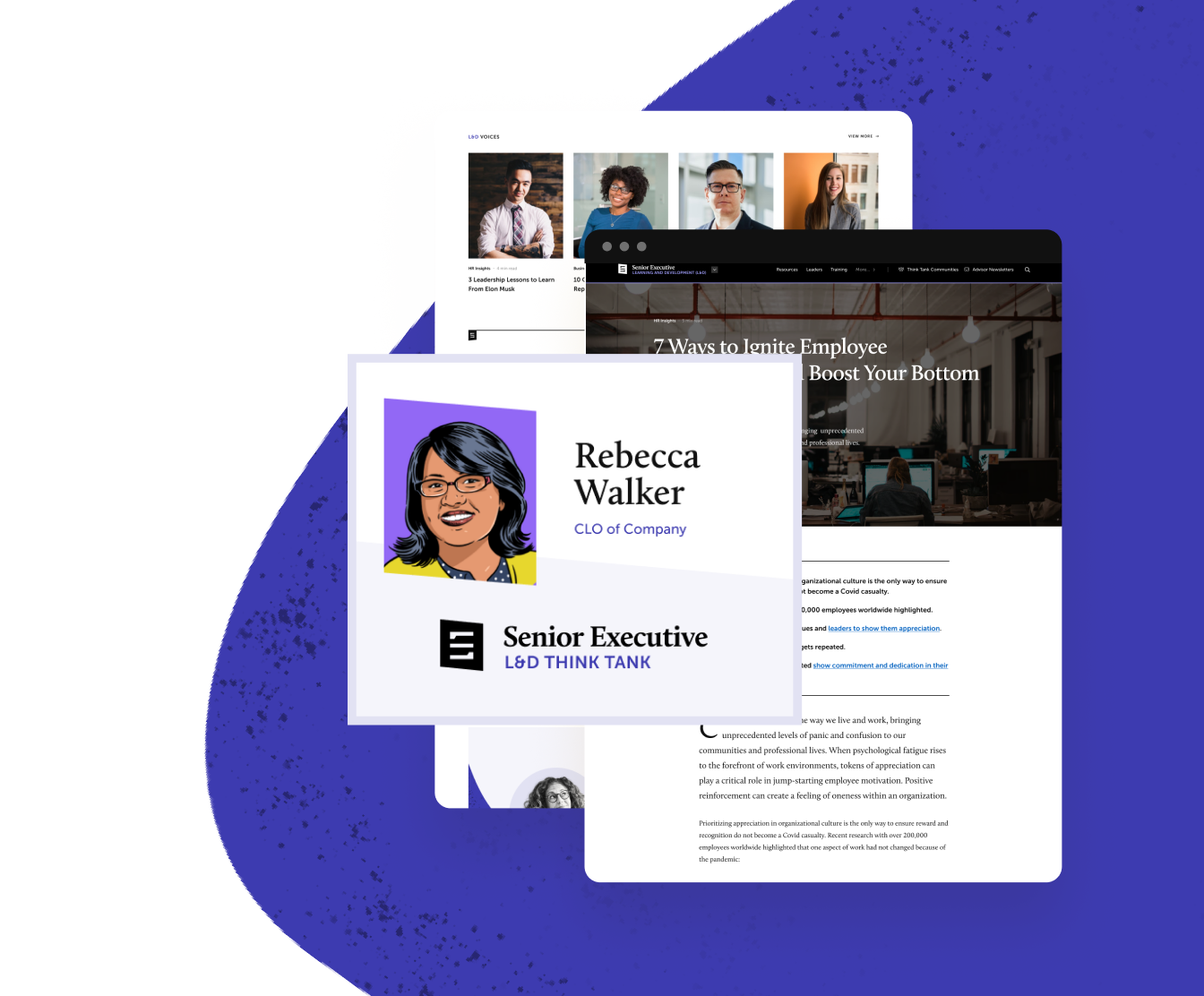 Senior Executive Media: In addition to your success with certification, are there any results you can share on how the Paycor Training Hub is performing?
Ashley Kaster: This year, we saw some of the highest volume we've seen in monthly average users — over 4,000 customers interacting with our training — something that simply is not feasible with manual training.
Our training program helps users realize the value of Paycor by adding more of our suite of products to augment their business and improve efficiency. For example, this could be payroll clients adding applicant tracking system (ATS) software or talent software — which is huge for us. It means they see so much value in our product that they are going back to their businesses and making a use case for Paycor across the board as a solution.
The bottom line is, creating a formal training program allowed us to reach exponentially more customers, ultimately impacting overall revenue retention.

– Ashley Kaster, Associate Manager of Learning and Development at Paycor
Other qualitative results include instilling confidence in our customers as they onboard with Paycor, helping them stay on track with their timelines and maximize the value of our products as quickly as possible. Customer retention has always been a high priority for our team as well. Even prior to the Training Hub, we had the data to prove that trained customers had a higher retention rate because they knew how to make the most of our products.
The bottom line is, creating a formal training program allowed us to reach exponentially more customers, ultimately impacting overall revenue retention. We were able to take our training offerings up a notch and create new, engaging, virtual and self-paced content to reach more learners, since increasing the sheer number of learners and completions was a key goal for the learning program.
The Training Hub enables reporting and integration capabilities that we didn't have before. We're able to monitor our dashboards, and the integrations feed into our broader company-level reporting to share insights on progress toward KPIs and our impact to the business. From the customer's perspective, the Training Hub allows us to reach all different types of learners; we don't need to have a cookie-cutter approach to training and just repeat the same sessions every time. Our customers love that there is something for everyone, no matter what their learning preferences or goals are.
Senior Executive Media: What advice would you give to an organization thinking about moving from a manual customer education approach to a scaled platform approach?
Ashley Kaster: Identify the parts of your strategy that are priority for you, and find the platform to match. If you want something that caters heavily to integrations, or you really need the ability to host webinar events, or maybe your learning is fee-based, ensure you clearly identify platforms that align with those needs. I put value in platforms that continue to innovate and evolve too, just like Paycor.
---
Looking for more insights from top learning and development leaders? Read these exclusive interviews by Senior Executive L&D.